By Stalos Theodorou
Climbing Kilimanjaro is definitely not the easiest task. You need faith, devotion and above all ... mental strength! But Georgiana has succeeded and we can undoubtedly say that she is a real survivor.
Lawyer by profession, studying in Liverpool and then postgraduate in London.
A girl who does not give up ... who knows what she wants and who at the age of 24 has lived and seen more than you and me. He went up to Kilimanjaro, lived in third world conditions and came out "richer" than ever.
Today, two years after her ascent to Kilimanjaro, she gives us lessons in mental strength.
My Georgiana, how did you make the decision to climb the highest mountain in Africa? It is not the easiest…
Hmmm… (smile). One day I saw a post on Facebook by my cousin about what she would do as leader of the University of Sheffield for an English, or non-profit called Dig deep ".
I immediately called her and asked her to tell me details about this organization. The team from Sheffield would do this difficult task to raise money and donate it to this charity.
What is the purpose of this charity? " Dig deep ";
The purpose of this organization is to have clean water and sanitation everywhere in rural communities in Kenya. There is a huge problem in East Africa with access to clean water, especially in rural communities outside cities. That is, every village needs to send little girls to walk three kilometers in the heat and the water they find will simply not be drinkable. They do have a huge hygiene problem in East Africa and that is the purpose of this organization. They try to cultivate a culture and explain to them the importance of hygiene in our lives. This interested me! I said it would be an incredible and interesting trip, it will have a good purpose and I said .. Let me do it! I joined the organization and started raising money.
Did your family and friends support you in this difficult endeavor? Was he next to you? What did they tell you;
At first my friends did not believe that I would do it, although they found it interesting (laughs). Then they helped me raise money and I thank them very much for that. My parents were a little skeptical at first because they thought it would be dangerous but I managed to convince them that it would be an important experience for me that would help me in the future. Many of my associates also supported me with money contributions and I will be grateful to them. Imagine my sister and her friends raised a lot of money by singing carols door to door. I made sweets and sold them at my University. I will never forget the day I and other classmates funded me at subway stations. With a lot of effort I managed to raise 2990 pounds and generally all the teams that climbed Kilimanjaro 60,000 pounds. Many thanks to my family, friends and especially my father.
So this adventure begins .. When?
On August 22, 2016 we left London for Africa. On August 23 we traveled from Kenya to Tanzania and the next day on August 24 until
On August 28, the mountain was climbed. On the 29th of August the descent from the mountain took place. It took us five and a half days to climb to the top and a day and a half to get down.
What were your feelings when the climb started? Is it true what they say you need more mental than physical strength?
Is true! Any such activity requires you to be in good physical condition to succeed, but it is not impossible. You do not need to be an athlete just to have faith! Many seniors have done it! It is not such a difficult mountain as Mount Everest that you need special equipment and training to succeed. Kilimanjaro is difficult but it is passable. But I recommend to anyone who would like to do something like this to prepare with cardio type gymnastics for better endurance on uphills. You need more mental strength because when you feel your body disappointing you then you have to put your soul and mind to be able to reach the top. That's why I say it is all in the mind. You need stubbornness at that time, to believe in yourself and say "I will do it!".
Describe to me your whole path to the top. (daily life, habits, sleep, food, weather).
Kilimanjaro is a magical mountain because it is so big and hosts 4 different ecosystems, ie every day you are in a different environment, so there are different conditions.
The first day we were in a rainforest. The route started from 1800 meters. Inside the rainforest there is a lot of coolness and humidity. The temperature is still very high and you can wear summer clothes. The ground is steep but
you do not climb. From the beginning of the route the rule is one! You have to go late! I remember the drivers who accompanied us typically calling us "pole pole" which means slowly in Swahili. The reason you have to go slowly from the beginning of the route is because you give your body the opportunity to get used to the change in altitude and to avoid the serious disease of the climber. We had about 14 drivers with a leader who showed us the way. They are all locals know the mountain very well and have gone to a special school to become guides in Kilimanjaro. We also had in our group 90 porters who carried our tents and personal belongings from one camp to another. The porters did not go at our own pace, they were faster to get to the camp faster than us. They had to set up our tents and prepare our food. We took breaks but not so much to get to the camps before sunset. We ate foods that could withstand temperatures such as: rice, potatoes, spaghetti, generally a lot of carbohydrates to have energy. We drank water constantly, at least three to four liters a day because water helps prevent climber disease. In the morning we drank beef powder and a lot of ginger tea. There were no bathrooms. Each of us was responsible for our personal hygiene. As the days went by we faced a different environment. On the second day we were surrounded by a swamp without water, with stones, sand and tall bushes. It was reminiscent of Cape Greco. (Smile). It was sunny and quite warm but we started wearing more clothes. On the third day the temperature dropped and the landscape next to us became deserted. There were scattered cacti and large rocks. On the fourth day the alpine desert began to grow, there were no more plants, only sparse stones. It was very cold last night, -30 degrees. We started the climb to the mountain at three in the morning. The reason is because at such hours the ice does not melt and the climb can be done more easily. We reached the top at noon. The descent was much faster than the ascent due to the fact that there is no degree of difficulty but also because the descent must be done quickly to feel better due to oxygen.
There were times when fear overwhelmed you and you said "I give up! I can not take it anymore!";
No. I can not say that I thought of giving them up, nor was I afraid. But I can say that the last day was the most difficult for me both mentally and physically. I told myself that I should not give up and that I came here for a purpose. With stubbornness and strength I reached the top!
Did you have any health problems? Did you or the other climbers face the disease of the climbers? Because it is known that those who climb high altitudes are faced with the disease of climbers since the oxygen in the atmosphere is reduced.
Actually! It is very serious! The disease of the climber will not affect anyone because he is untrained or because he is weak. It just depends on everyone's body and how much physical endurance they have at altitude. It is purely a matter of organization. For example, an Olympic-level athlete may get sick and an older, untrained person may get nothing. Most people started having symptoms on the third day, at 3,000 to 4,000 meters. The first symptom is a headache followed by nausea, dizziness and drowsiness. You feel exhausted and that there is not enough oxygen in the atmosphere. I remember in particular that many people had lost their appetite. Water was miraculous for me because whenever I felt like I had a headache, I drank water and it passed. Fortunately, I only had a strong headache, nausea and drowsiness on the last day! I could not keep my eyes open (laughs). We were a group of 40 people and only 20 of us managed to climb to the top and conquer the mountain. Two girls were "struck" by the climber's disease and had to be transported immediately to a lower altitude to be treated. Unfortunately, they did not succeed in achieving their goal. The other half managed to reach the second highest point called "Stella Point" and is only 250 meters below the top. That is, imagine how difficult it is for someone at that moment and how it feels to leave them so close to the top. I remember specifically when we were only 250 meters to the top, I took a slow step and felt like I had run a marathon and could not breathe. Unpleasant feeling ..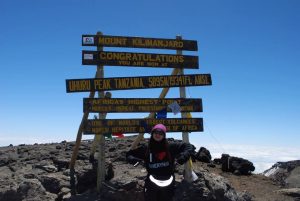 The road to the top .. Once you arrived what did you feel? What did you say; Did you feel satisfied? Tell me your feelings ..
I felt incredible satisfaction and emotion when I reached the top. As soon as we arrived we all fell down and cried hugging. I was excited about what I had accomplished. But we did not have much time to realize this because at the top there is very little oxygen, about 30% - 40%. You have the right to stay there for only 20 minutes. We took pictures and started the descent. The truth is that my memories are a bit blurred due to the fact that my brain was not functioning normally. It only took us 10 minutes to get down from the top and an hour and a half to climb it.
Would you do it again? Was it worth it after all?
Yes! (laughs). But I do not know if I would do it again on the same mountain, although it piqued my interest. I would like to live this experience again but on a different mountain. I have in mind to make a trip to Machu Picchu in Peru. It is a fantastic experience and I would recommend it to everyone, especially when the purpose of the climb is charity. You learn a lot about yourself and you know your limits. The main thing is that you learn not to give up the slightest thing, to have a team spirit and to be interested in the person next to you.
Something you will not forget? A piece of advice they have given you.
The night before we go to sleep to start the climb to the top. That is, last night, the leader of our team gave us advice. He reminded us that it is a difficult physical path, it will be a challenge for us. Both physical and mental but mainly mental. To have stubbornness and strength but without endangering ourselves. One piece of advice that I will not forget and will remember forever is when we were told that "The Mountain must be respected in order to be respected." That is, you must follow the rules and not underestimate it.
Did Georgiana change after all this? Did it get stronger?
I became stronger. Now when I am faced with a difficulty I think I have done this in the past and I gain strength. With this project I proved to myself that I am strong, I have more mental strength than physical and when I set a goal I can achieve it even when there are difficulties. I am no longer bothered by hardships. The conditions were difficult. I learned not to complain about trivial things. I appreciated things that we take for granted in our lives. I am no longer moved by luxuries because I realized that we can live without them.
Do you generally like challenges? Your next goal?
I like the challenges in life, although I can not say that I do extreme sports. I like to travel and get to know new cultures. I think this opens my horizons and makes me a more complete person with more knowledge. My next goal is to travel to Latin America and specifically to Mexico to volunteer in the field of Human Rights.
INFO: Kilimanjaro is the highest mountain in Africa with a height of 5.895 and a destination for many climbers from around the world. It is located in northeastern Tanzania and very close to Ecuador and is also called the "roof of Africa". It is the largest mountain in the world that is not part of an extensive mountain range. Kilimanjaro has a tropical climate at its base that becomes alpine as you reach the top. Its enormous height, its snow-capped peaks, its natural form and the variety in climatic and environmental conditions make Kilimanjaro a place of rare natural beauty that rightly ranks in one of the New Wonders of Nature.
* The interview took place in June 2018. Today Georgiana is in Mexico for volunteer work in the field of Human Rights Protection.