Scientists are sounding the alarm about the following plant which many have at home, as it is not so innocent.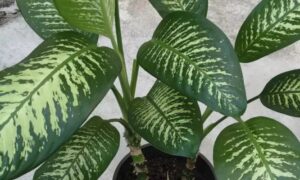 Its scientific name is "Dieffenbachia" (Dieffenbachia) and according to the US National Poison Center, what few people know is that this plant can prove fatal to humans, especially small children!
Dieffenbachia is a type of indoor houseplant with large, bicolor leaves. It is very toxic and poisoning in humans it can occur if one chews the leaves, stem or even the root of the plant.
That is why young children are also at greater risk, since they are used to putting "everything in front of them" in their mouths.
Poisonous ingredient
-Oxalic acid
-Asparagine (a protein found in this plant)
Symptoms of toxic poisoning from the Dieffenbachia plant
-Burning in the mouth or throat
- Damage to the cornea of ​​the eye
-Diarrhea
-Eye pain
-Hoarse voice
-Nausea or vomiting
-Swelling and blisters in the mouth or tongue
-Blisters and swelling in the mouth that may be severe enough to prevent normal speaking, breathing and swallowing.
Wipe the mouth with a cold, damp cloth. Wash your eyes and facial skin thoroughly if you have touched sap from the plant and then your face. Give the patient milk to drink. Call the Poisons Center for more guidance.
If contact with the patient's mouth is not extensive, symptoms usually subside within a few days. For patients who have severe contact with the plant, a longer recovery time is required.
Never touch or eat any plant you are not familiar with. Always wash your hands thoroughly after working in the garden.
via: Enimerotiko