British designer Stella McCartney presented a collection at the Paris Opera, created largely from recyclable fabrics and second-hand clothes, in the presence of a number of soubise stars, with the first presenter being the famous Oprah Winfrey.
The creator took advantage of the show as part of Paris Fashion Week cto draw attention to her Instagram campaign #ThereSheGrows, which aims to save the Sumatra rainforest.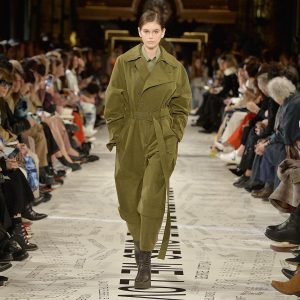 The show was opened by a model wearing a synthetic leather coat. Top model Natalia Vontianova had painted a tattoo with the word "SOS" on one of her cheekbones. Other models had tattoos with slogans such as "Green is the new black".
Hollywood stars Gwyneth Paltrow, Drew Barrymore and Rooney Mara, as well as singer Pink, are already taking part in the #ThereSheGrows campaign, which wants to raise awareness about the deforestation of Leuser Ecosystem in this unique beauty area of ​​Sou.
Stella McCartney used vintage fabrics for her creations in blue, green, bright yellow, black. The centerpiece of this collection is a colorful dress assembled from t-shirt strips.
Presenter and businesswoman Oprah Winfrey, one of the first guests, told reporters that she "loved the defile and fully supports" the campaign for Indonesia's forest, the only area in the world where tigers, rhinos, orangutans and elephants live together.
Beauty Carly Kloss also attended the show, while Kia Gerber, Cindy Crawford's 17-year-old daughter, wore a khaki bodysuit.
Source: KYPE