She arrived at the makeshift camp "I Prosfygia", set up last Monday in Dasaki Achnas, holding in one hand a photograph of her life in the Chiatirkas after the horrific uprooting of 1974 and in the other an embroidered sheet. "Sedonui has a history, that's why I brought it," he says.
Against the background of the chilling scene, set up by the community council, which brings to life painful memories of the refugee, Giannoula Mouzourou, now a resident of Dasaki Achnas, begins to tell her shocking story. It may be that the 48 years that have passed have faded the memories of most. The sanctuary for refugees, a place where she lives, however, as well as the view of her house in occupied Achna, keeps her own indelible.
"I see my house. On your way. It's been 50 years giai I see giame disappearing. We keep having the same anger. You say "inda we passed giai we are still in the same denominator". We may have built a new house, but you know? Not the same. When war comes into your life, you cannot continue it as before."

It was August 28, 1974. The then 22-year-old Giannoula was at her mother's house in Achna with her three-year-old son and 30 other refugees they were hosting.
"It was noon, we stopped to eat. Suddenly, some people started shouting "the Turks have come to Achna, blow, blow...". It was a panjurism. People started leaving, some in cars, others on foot. My papa had three buses and he told us to burn them. In a panic, I caught a bus and left, but I forgot my sleeping son. Once we hit the main road, I remembered the baby. I started running and I was going back. Alas, everyone, "turn back, the Turks are coming". I didn't hear anything, then I told him to sleep. It was covered with the sheet I brought, which I then embroidered. After that, I never embroidered again in my life. I put the baby on my back, I grabbed the sentonui, and we managed to come to Dasaki."
Her family together with the rest of the refugees she hosted, about 50 people, slept for months, some on buses and others under trees.
"We struggled a lot. Because my mother was in the EOKA fight, she didn't want us to catch the English. Some kept a little money and we bought spaghetti and rice. At Christmas, they gave us chiatirka to eat. They gave us a small one. We stayed in Chiatirka for two years.
We had boring winters, it rained a lot. Many times we wake up in the night to find our shoes floating in the water. The wind was blowing and it was taking the chitiri, one foot one foot.
Do you see the clothes in the photo? We are well-dressed because we ate the things that Jiai saved for Christmas. That Christmas, I wanted to do something for my baby, like I did for him in Achna. I grabbed a cassia, cut a branch of the jiai pine and put it in a mastrappa. Then I put pieces of paper to seal it. When the Red Cross girls came to give gifts to the babies, they cried when they saw it.
We went through a lot in Chiatirka... In the hope that kept us alive... Let's see that we are temporarily here and that we are not going back to our home in Achna. Then we decided to make a home in Dasaki. You know why; In order to be close, let's go back first, full of air to Achna."
So 48 years passed. She and her husband worked too many jobs to raise the son and daughter they had in the refugee camp. Now Mrs. Giannoula talks constantly about Achna, the chiatircas and the life in the refugee, to her three grandchildren so that they never forget the history of their family.
"We were waiting for God to send food to the babies"
Among the approximately 70 refugees who found refuge in Dasos Achnas, was Dimitris Antoniou, from Makrasyka. He was a soldier himself, but when the tanks arrived outside the village, they were forced to flee. His wife gave birth to their fifth child on July 29 and the next day they left.
"We were married down there in Xylotymbou with the newborn. We stayed 20 days, then we arrived at Dasaki. We were falling down, under the trees. To eat we tried to find some grass or some potatoes in the fields. Then they brought the chiatirka. We stayed there for over two years. There were too many difficult things. To be five babies and wait for God to send them food.
We are excited to see the chiatirkas that have now become checkers. We remember what we went through... In winter it was full of water down there. I remember my husband was always sick and he was always in the hospital.
My wife went through a lot of trouble. He was easy on the potatoes and our son was patted on the back as he picked them. Sometimes I think how jiai cetafermen ta…".
The family of Mr. Dimitris remained in Dasaki Achnas. They built a house on the site where the tent was where they lived. "I wanted us to stay in Dasaki, because Makrasyka is nearby, so we could turn back safely. We thought the Turks would blow away and we would go back. Let them still blow, though...".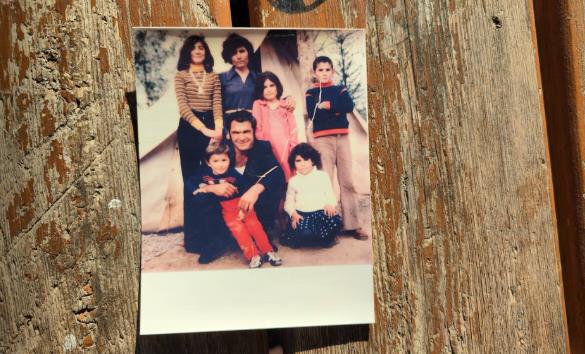 The "2nd Refugee Meeting"
The initiator of the idea for the "Meeting of Refugees" and the creation of a camp, which was set up for the second time, is the community leader Dasous Achnas, Nikos Vasilas.

"I was 12 years old when we came as refugees. My father had fields in this area and whatever was in the orchard, he shared with the refugees. A small warehouse was used to sleep on the floor for 100 babies.

I remember people begging for a bag of potatoes. When I was elected, I thought that someone should convey to the new generations what happened in Dasaki during that period. In 2019, despite the great cost, we set up the camp and did many things exactly as they were then. Then we fear that the venture will fail, but there was demand from schools and it was extended. This year, it is again in great demand from schools and we will keep the camp for three more days, until October 26."
intervention
To become a permanent theme park
The representation of the refugee camp is one of the most shocking events of memory in recent years. It works thanks to the offer of volunteers, who also undertake guided tours. The students are offered rice milk outside a tent-school, just like it was done back then.
"The reactions of the babies are incredible and the teachers are thanking us for what we did," says Mr. Vasilas, calling on the state to create a permanent theme park in the area. "We want people from the Ministry of Education to come, at a time when schools are coming, because it is one thing to hear and another to see what is happening. We must work together to make it a permanent theme park, because the issue of invasion and refugees must never be forgotten. Only in this way will we be saved from the barbaric neighbor we have."
Source: Philenews