The Turks in the occupied territories are taking on a new challenge as tomorrow they will hold a music festival in Ancient Salamina in the occupied province of Famagusta.
In particular, the Music Association of Northern Cyprus announced that the pseudo-state's international music festival starts tomorrow
According to the information provided by the club, the festival, which will be held for the 20th time this year, will start with the Fazıl Say concert at the ancient theater of Salamis at 9 pm. Fazıl Say will also present a program of solo piano works at the concert.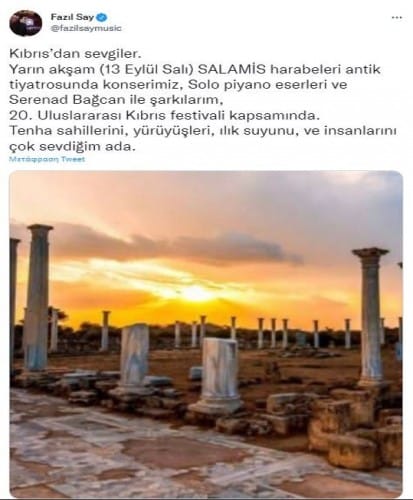 The festival, where 12 different concerts will be held until October 31, will continue with the Soprano Demetra George Mustafaoğlu & LBO Concert held at Bellapais Abbey on Sunday, September 25, and 3 tenor concerts again at Bellapais on Saturday, October 1.
Cyprus concert,
Salamis Antik Tiyatro.
13 Eylül.
Serenad Bağcan ile şarkılarımı seslendireceğimiz konserde, bülüşmak ışım. pic.twitter.com/m0wGwG1ZAx

— Fazil Say (@fazilsaymusic) August 24