Gioula Ioannou Patsalidou was born in 1957 in Avgorou and graduated in the first year of the war from the Pancyprian High School of Larnaca, after the schools in Famagusta were lost, where she had been studying until then. He attended courses in the art of photography at FORTH Athens and then courses in French language and culture and Greek literature in Lyon, France. She worked on a private radio station as a music producer, but her great love was always writing, until she decided to publish some of the poems and short stories she had been collecting for years.
Gioula Ioannou Patsalidou, in an interview with FamagustaNews and Andri Flourentzou, talked about her poems and short stories, her participation in conferences and her awards.
What was the reason for you to start publishing your poems and short stories?
I had a lot of writing in the drawers. I wrote from a young age and kept them. At one point a lot had gathered and I said that maybe it was time to do something. My first thought was to send them to a publishing house to see if there was any interest. Then, my poems were seen by Mr. Andreas Tsitsaros who approached me and told me that he would be interested in making a collection of fairy tales, poems and short stories. This is how my first book came about "Ayia Napa and beyond", from the publishing house "Surface" in 1994. Many texts in the book are inspired by that environment, the principle of tourism and urbanization. Ever since it was transformed from a small village, a fishing village into a state.
How long after your second book was published?
For the second book, it only took me ten years to make the decision. I had it ready for a long time. However, I was wondering if there is any reason to do this because Cyprus is a limited space. But when my books started to reach Greece and Australia, then I felt that something was happening.
When was your first award?
I had gone to Larissa at some point because my son was a student and so I gave as a gift to some libraries some books which some people seem to have noticed and so came the invitation in 2011 for the World Congress of Poets in Larissa where to my great surprise I was awarded for all my books. It was a five-day conference with many events, with many participants from all over the world. Entries from India from Australia, from America, from all over the world. I met amazing people, poets, intellectuals.
What do you keep from attending this conference?
Among the people who approached me to congratulate me then were Asia Minor and Pontians who told me about one of my stories. This particular story described my experiences from the war and the most moving thing was that they told me about common experiences we had, only that they had lived before us, in Asia Minor with the Asia Minor catastrophe and the Pontian Genocide.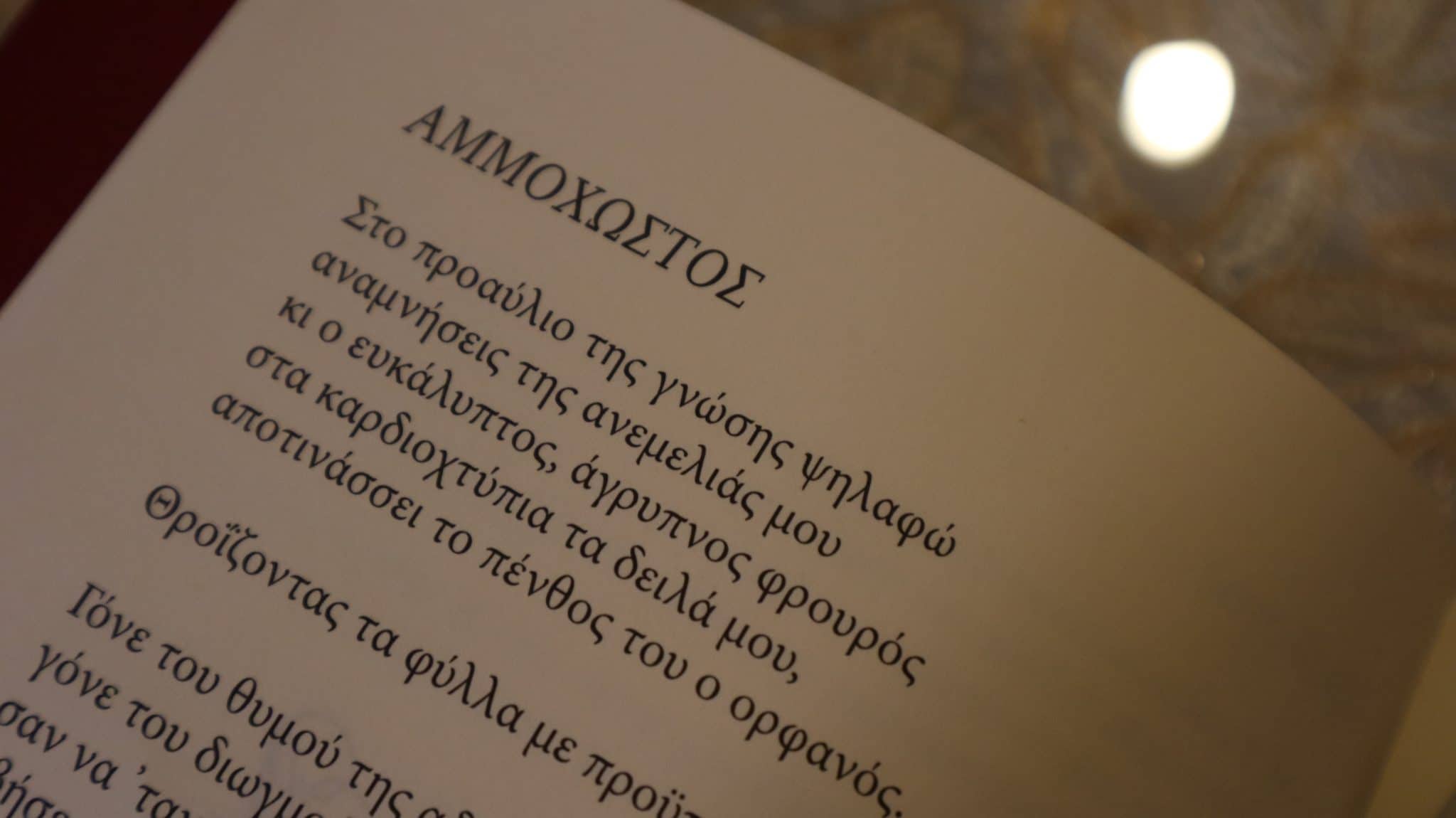 Are your poems that stand out?
I single out the poems that hurt the most. The poems of Famagusta. Famagusta, and I had experienced the war as a student. All the poems mentioned in the part of the occupation are real experiences, my own and other people's and that is why I distinguish them more than the rest.
There are many children's books you have written. Is there an explanation for this?
Writing for children also benefits you, because you keep the child you once were. My goal was and is, the content of my fairy tales or short stories, which refer to children, to mobilize the mind, to receive some messages from reading. I want their inner world, their mind, their soul to be mobilized and to accept justice, love and some values ​​which unfortunately tend to disappear from year to year.
After the conference in Larissa where you were awarded, oThe awards and publications from your work abounded. Tell us about it.
Awards
I was invited to the 7th World Writers' Conference in India. At this conference, I presented my book "The most valuable gift", which is a classic fairy tale.
Then came various awards from various competitions, mainly in Greece.
The award in Larissa was followed by an award from the magazine «Seventeen» for a short story I had written in 2012. The topic was, the life of a student abroad, in France.
In the 6th World Literary Competition, from the Hellenic Cultural Association of Cypriots (EPOK), in 2015, I received the XNUMXnd Prize for the short story "On earth of the Saints ".
Then, in the 7th World Literary Competition, by the Hellenic Cultural Club of Cyprus (EPOK), in 2016, the First Prize for the short story "Sun Pantelias" as well as the First Prize for the book "Fairytale singers". This book was also chosen as "Book of the year for 2017".
This was followed by the 8th World Literary Competition of 2017, where the Hellenic Cultural Group of Greek Cypriots awarded me the AI ​​Prize for the short story. "August 5 July 1958".
I have recently been awarded by EPOK for the fairy tale, "Conversation with Santa Claus", which I have not even received from Canada I had received the award at some point Star of Piece from a radio station.
Participations
I also participated in other competitions such as, for example, the "International Competition of Unpublished Original and Unpublished Poetry", on the subject of the return of the Parthenon sculptures, where I received a Commendation from the Group for Unesco Piraeus and Islands.
Collective Volumes
From time to time poetic organizations and universities publish collective volumes with participations from all over the world having a specific theme.
I received an invitation from Africa for a collective volume dedicated to Nelson Mandela. I sent my poem "Rented house". Also, for another world edition, this time in America, on Missing Persons, I sent "The ossuary", which talks about the missing and the piece of bone they bring in boxes.
Events
After we had released several collective publications with my own participation, the President of the organization took me "A thousand poets for change». In his phone call, he asked me to organize some events for peace in Cyprus. I considered it a good opportunity to do so in order to highlight the problem of Cyprus.
In the event, Turkish Cypriot poets were invited, with whom we exchanged participations in events on the theme of Peace, with the result that the events were transformed into bi-communal.
In 2017 we organized in Ayia Napa, in Avgorou in 2019, in 2020 in Deryneia and in 2021 due to the pandemic we sent visualized material.
At the event we had in 2019 in Avgorou, a poem written by a Turkish Cypriot journalist was read about a child who had been killed by the Turks during the invasion of Palekithro. The poem was read in Turkish but also translated into Greek, which was very moving.
Every September, 400-450 cities around the world take part in this organization in the context of the celebration of peace, organizing events for peace.
Note that this material is kept in Stanford University archives for research purposes.
The event in Avgorou in 2018 and in Deryneia in 2019 in the Turkish Cypriot press
Have you received any awards from Cyprus?
All the awards I have received I have received from abroad. The only thing I have received from Cyprus is an Honorary Diploma from the Cyprus Association of Children and Youth Books.
I did not even participate to be honest and the reason is because not many competitions are announced. I always receive from the children's book link, information about some competitions but I do not participate. I feel that competitions abroad are becoming more meritocratic.
Did you have a goal regarding the subject matter of the texts you sent abroad for publication or for competitions?
When I sent books to competitions abroad, I tried through my poems, through my short stories to promote the issue of the occupation so that it would be made known to the general public.
FamagustaNews