This is one of the most famous Cypriot chefs. A man who manages to implement the most imaginative culinary discoveries in his own special and friendly gastronomic area in the most popular coastal area of ​​Protaras. A chef who does not tire of experimenting and trying new recipes, using the purest ingredients and creating unique flavor recipes in Di Capilla Seaside Stories on the coastal pedestrian street between Pernera and Protaras.
Read also: Chef Louis Papageorgiou participates in the Acropolis rally (PICTURE)
On the other hand, however, what makes him Chef Louis Papageorgiou to stand out is his passion and love for the rally, which is known since he is one of the veteran fans of the sport. From a young age, before he turned eighteen, he secretly grabbed his parents' car and drove while he was given the opportunity to play racing at the age of 25. From then until today he is involved in this sport not because he is interested in the firsts but for the feelings he feels when driving.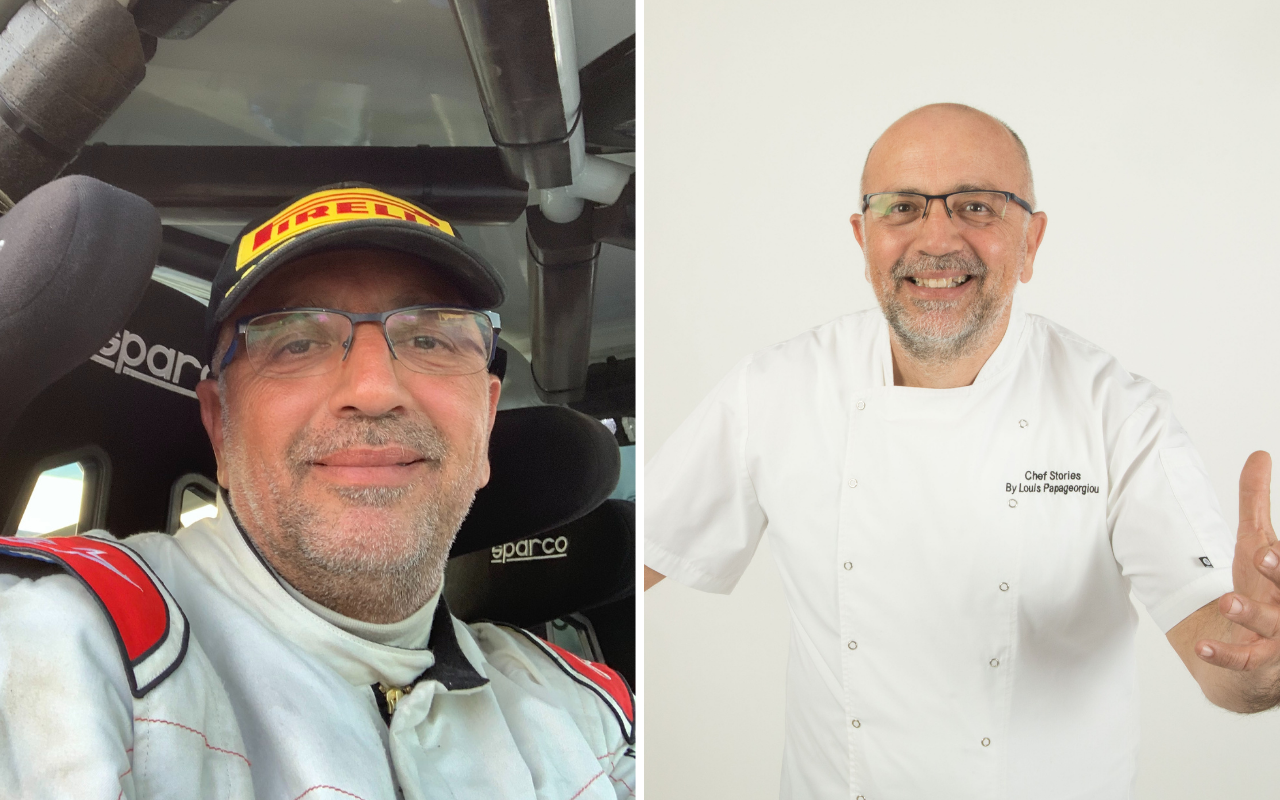 The Acropolis rally it was a dream come true for him: "Participating in this race is a lifelong dream of most and it is not an easy task. In addition to the car that must meet the appropriate specifications, the participating crews must also have strong wine. "
Rally Acropolis returns to the World Rally Championship after 8 years
Conversely, everyone counts for its start EKO Rally Acropolis which returns this year to the World Rally Championship after 2013. The eighth round of this year's World Rally Championship can be described as crucial as there are four races left to complete the season and any mistakes can be fatal for drivers and teams.
All this year's protagonists of the World Cup will run in the tough race and the participations reached 55. Among them are four Cypriot crews who will be in the battle between the best combinations in the world, while among them the Chef Louis Papageorgiou with Helladitis as co-driver Vassilis Kougia who will run the two-wheeler for the first time Peugeot 208 Rally4 with the team TOP motorsport in order to gather experiences from a very difficult match.
The historic race, which from its early years, in the early 1950s, rightfully won a place on the international motorsport scene, after an eight-year absence from the World Rally Championship (WRC) calendar returns, having even secured the his presence in the institution for the two years 2021-2022.
The new chapter in its history Acropolis Rally will be written on 9-12 September 2021 and the Cypriot driver Louis Papageorgiou will be there, as he mentions "Cooking and speed are the perfect combination!"
Famagusta.News