The memory of the Champion and Equal Apostle of Agia Thekla, one of the largest religious congregations in the free province of Famagusta, was celebrated again this year with the appropriate splendor and with the appropriate religious reverence.
Hundreds of believers suffocatingly flooded the seaside chapel of the same name, which is located on the borders of the metropolitan region of Constantia - Famagusta and is served according to its liturgical needs by the Sotiras Church.
On the eve of the holiday, Friday September 23, 2022, the Solemn Vespers was celebrated by the city's priesthood.
The mayors of Sotiras Georgios Takkas, Theodoros Pyrillis of Paralimni, the MPs of Famagusta Onoufrios Koullas, Christos Senekis and others were present.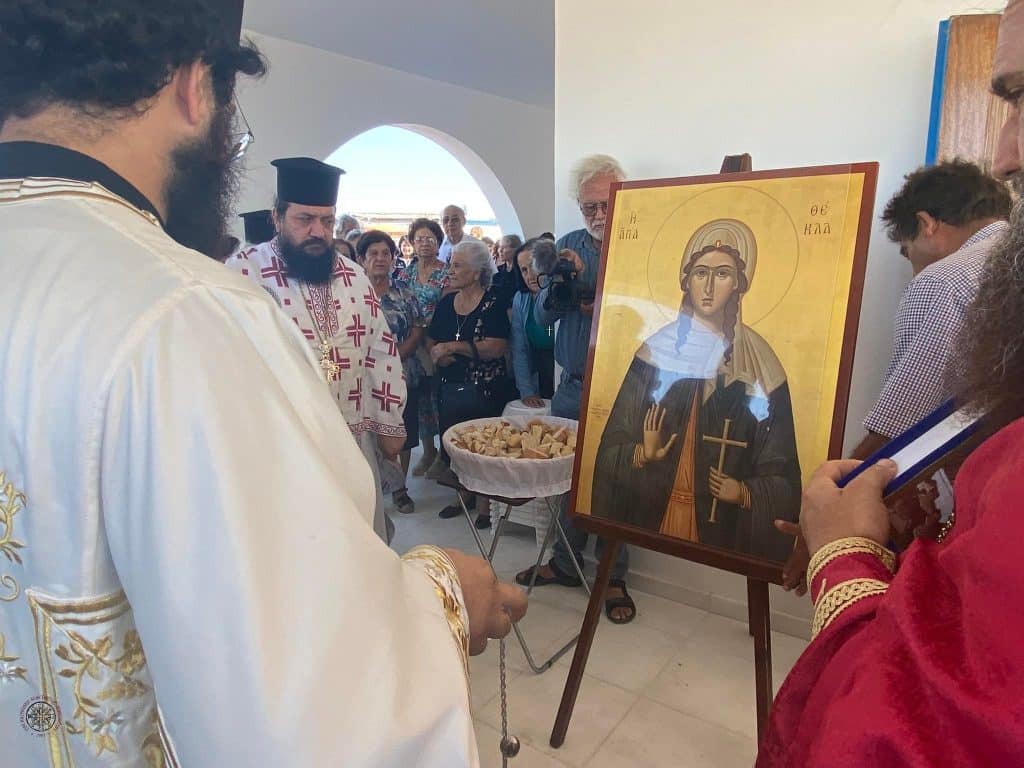 This was followed by the procession of the holy icon, around the temple.
On Saturday, September 24, the Divine Liturgy was held under the patronage of the Metropolitan of Constantia Famagusta Vassiliou, who in his theological speech during the homily, referred to the Gospel passage that is read in honor of the saint being celebrated.
"The parable of the 10 virgins is part of the holy gospel of the Evangelist Matthew, in which Jesus Christ prepares us for his second coming with which each of us is called to be ready.
Saint Thekla was honored by the Church with the title of Isapostolo, when she (according to the description in the ancient text Acts of the Apostle Paul and Life of Saint Thekla) heard the sermon of the Apostle Paul, followed him, became his student and then ' preacher of the Gospel and witness of Jesus Christ'.
The symbolism of the "oil" mentioned in the parable, he emphasized, has the meaning of the works of every Christian which he is called to do in his life in order to have that reserve with which he will be able to manifest himself or be present at the Second Coming.
We cannot borrow the works of others, nor can we buy forgiveness of sins, he added, but fill ourselves with "oil of virtues" and strive spiritually, so that we are ready to receive Christ."
Finally, he wished that the blessing and embassies of Saint Thekle accompany our lives, so that we may follow the path of the Gospel and that we too may deserve the joy of Paradise.
Source: Holy Metropolis of Constantia - Famagusta