Among the best higher education units, and in fact with international certification, is the Internapa College after the announcement of the ranking of the 18 best university institutions in Cyprus by the global evaluation organization AD Scientific Index for 2022.
Specifically Internapa College is listed as one of the 17 better university institutions of Cyprus and is the only one in the province of Famagusta and second for the Larnaca - Famagusta region.
In detail the ranking:
University of Cyprus (World Ranking: 520)

University of Technology (World Ranking: 1452)

Open University of Cyprus (World Ranking: 1652)

Cyprus Institute (World Ranking: 1675)

University of Nicosia (World Ranking: 2252)

European University of Cyprus (World Ranking: 2443)

Cyprus Institute of Neurology & Genetics Cyprus School of Molecular Medicine (World Ranking: 3457)

Postgraduate Research Institute of Science, Technology, Environment and Medicine (World Ranking: 4580)

Frederick University (World Ranking: 4725)

Neapolis University of Paphos (World Ranking: 5767)

Bank of Cyprus Oncology Center (World Ranking: 8879)

Frederick Institute of Technology (World Ranking: 10231)

Cyprus International Institute of Management (World Ranking: 13294)

Alexander College Cyprus (World Ranking: 15025)

Central Bank of Cyprus (World Ranking: 15234)

Ledra College (World Ranking: 15633)

Internapa College (World Ranking: 15636)

Cyprus Institute of Marketing (World Ranking: 15747)
The list of the best universities in Cyprus for 2022
The AD Scientific Index compiles the list of best Universities in the world but also in each region and each country for each year, using an evaluation system that includes only notable scientists, based on an overall score through Google Scholar, distinguishing academics who are ranked among the top 2% worldwide and among the top 10% of universities.
Read also: SOTIRA: We discovered an underground hidden bar – Where is it (PICTURES+VIDEO)
Upgraded majors from Internapa College with government funding
The Internapa College offers the following fields of study:
One Year Certificate in Professional Bartending (Barology) – NEW PROGRAM
Students will acquire the essential professional and technical skills in beverage preparation and service, cocktail making, modernist drink mixing, flair bartending and skills barista. The program sets learning, professional knowledge and skill development as a strong foundation for students in building a customer-oriented service culture, adopting modern and best practices in the workplace and enhancing interpersonal communication skills. Students are encouraged to enhance their career development by integrating both theoretical and laboratory practical learning together with their practical experience to become sophisticated and classy bartenders. It is aimed at students who want to advance in their field bar either as bar managers or already professionals who want to develop and expand their knowledge.
Diploma in Hospitality and Tourism Management:
The aim of the program is to provide students with a range of cognitive, technical and transferable skills, following industry trends and market needs. The program develops professional skills, giving students opportunities to undertake different occupations in a changing work environment. A combination of classroom theory, practical application and industry training where it will enable students to cultivate a customer-centric hospitality service culture and enhance communication skills. Specialization in subjects such as: food and beverage business, room separation, hospitality, business and languages ​​have been developed to give students the necessary knowledge and skills for supervisory responsibilities in hospitality businesses. It is aimed at students who want to work in hotels or to existing professional hotel staff.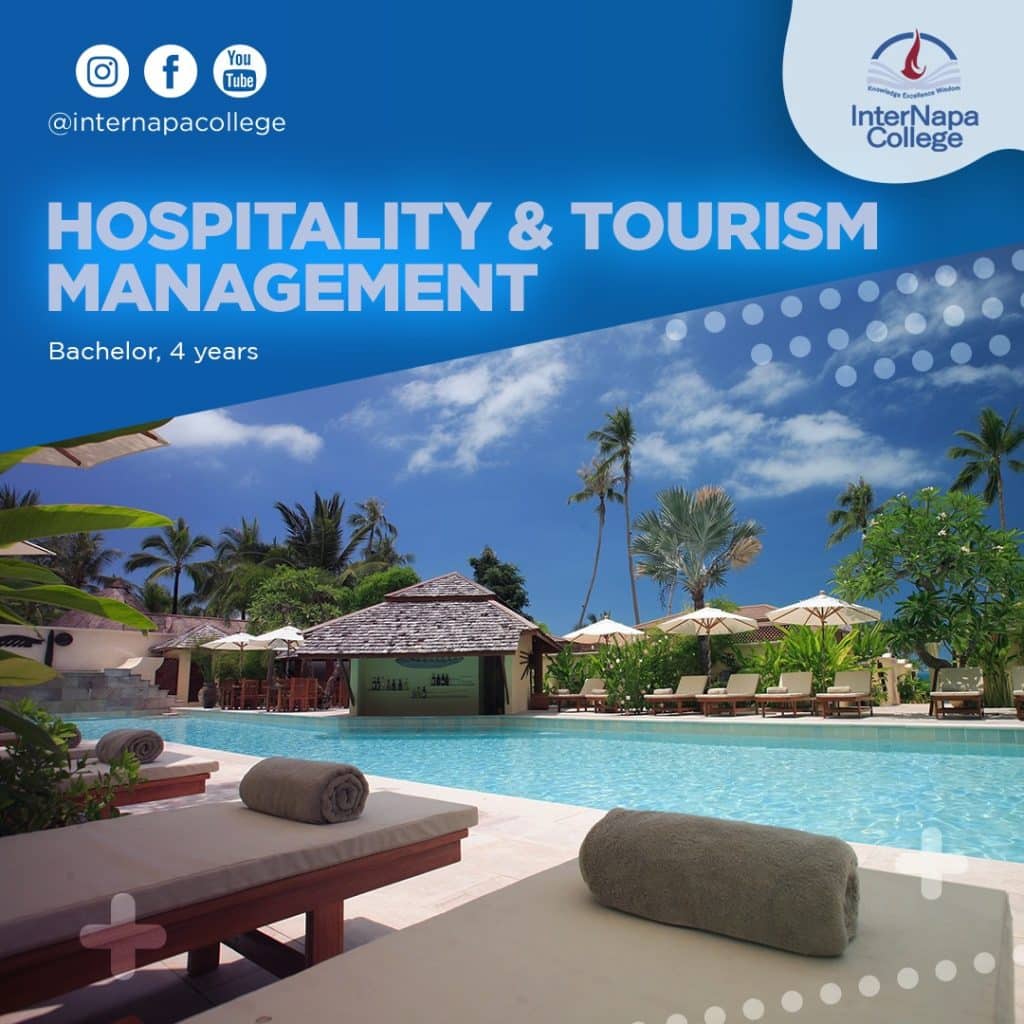 Bachelor in Hospitality and Tourism Management:
The purpose of the program is to provide students with academic, professional and managerial skills required in the wider hospitality and tourism industry. Students will enter a creative learning and entrepreneurial environment in order to develop strong leadership characteristics and a professional culture oriented towards hospitality. The program stimulates academic principles through reflective learning and critical thinking in theoretical and professional courses and supports students in applying multidisciplinary approaches to management, problem solving, effective decision making and best business practices. Along with internships and work experience, the program offers students an opportunity for professional networking in order to advance their future careers. Graduates will expect to be employed in supervisory/managerial positions and work in different organizations in the industry hosting and tourism. It is aimed at students who would like to excel in Managerial Positions Hotels or to existing hotel staff who would like further promotions.
Diploma in Culinary Arts:
The program Culinary Arts, aims to prepare students for a brilliant career in the food service industry, in entry-level positions in restaurants ή hotels leading to supervisory / managerial positions in the near future. It follows industry trends and market needs by applying modern understandings of food production and food production systems. The program offers a combination of classroom theory, practical application and industrial training, thereby enabling students to develop the necessary skills in food production and preparation as well as better management. Refers to students who would like to engage professionally in the field of catering arts and to existing hotel staff for further development and knowledge.
Master of Business Administration (18 months):
The purpose of the program is to provide business management training to students who are interested in deepening and broadening their management skills within the context of the service economy. Students will develop sound knowledge, intellectual and transferable business skills to interpret management concepts in a competitive and innovation-driven business environment.
The program MBA it is based on information, theory, research and the creative synthesis of best practices from various disciplines such as management, operations, marketing, accounting, finance, finance, digital business, human resource and talent management, innovation and strategic management. Through experiential learning, students will develop entrepreneurial skills and a quality-oriented management culture in order to apply leadership, decision-making and critical thinking techniques in a wide variety of business situations and organizational settings. Graduates will be able to be employed in various private or public organizations or continue their studies. At the same time, the program is addressed to already professionals who wish to advance in the field of Industry or to Civil Servants who wish to be promoted.
Contact
Barology:
www.barology.cy
info@internapa.ac.cy
Instagram: @barology.inc
Tel. 23829840
Classes start in October
Internapa College
www.internapa.ac.cy
admin@internapa.ac.cy
Instagram: @internapacollege
Tel. 23829840
All courses start in October