By Christiana Dionysiou
This man has a pure and beautiful soul and this beauty is clearly visible in his eyes. He is very down to earth, lonely but communicative, sensitive, hardworking and helpful. He likes to offer help and service without reciprocation.
He decided to speak openly about the miracles he has experienced in his life and he believes a lot in God. His life is full of miracles.
The story of this man confirms to us that the scriptures may contain many accounts of miracles - some of them are large and impressive, such as the parting of the Red Sea - but even today great miracles still happen. We may not always hear about them, but miracles still happen in people's lives all the time.
Christos Kyriakou from Xylofagou, reports :
"I was born on 30/8/1983 and I have three siblings. I am married and have two children. I was always cheerful, happy and my life was full of dreams.
In 2011 came the first health problems...
I started suffering from gastroesophageal reflux disease (it is the second most common disease of our digestive system after irritable bowel syndrome). I wasn't the same anymore... I lost a lot of weight.
In 2019, the first big test came into our lives...
My wife was diagnosed with breast cancer and the ordeal was quite tough I must admit. Fortunately, however, with strength of soul and daily prayer, he managed to overcome it. But the trials did not stop...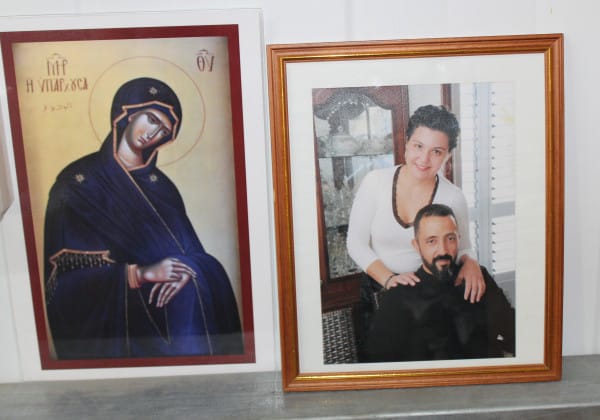 On November 23, 2021, something happened to me that completely changed my life.
I got sick with coronavirus and five days after the initial diagnosis of the disease, while sitting on my couch, I felt a strong discomfort, a feeling nausea. When I got up to go to the bathroom to throw up, I got dizzy and passed out. I fell backwards and hit my head.
It was night and my wife was sleeping with our children. They found me five hours later, it was dawn. They immediately called an ambulance. I moved to Nicosia. When I came to I could not speak, I only screamed. A few hours later I fell into a coma and remained for 31 days.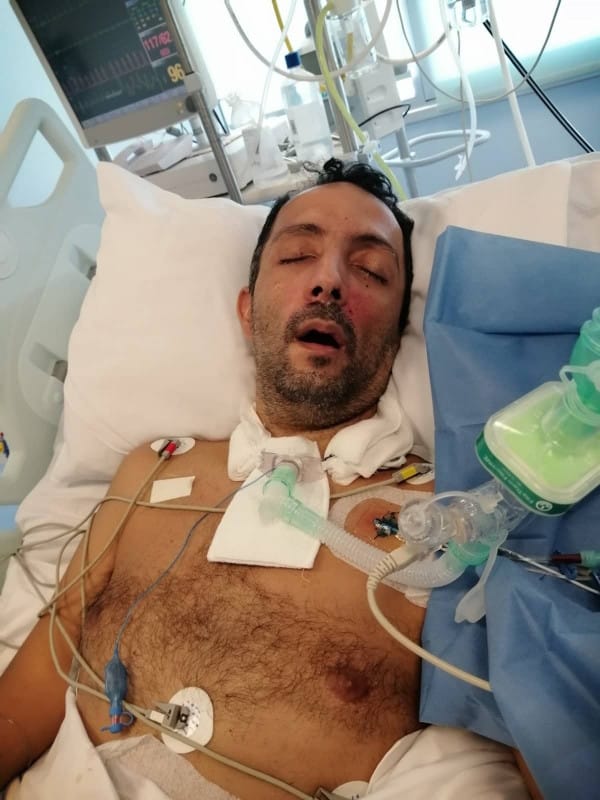 The doctors were not optimistic at all…
I had suffered a brain haemorrhage. Κskull base fractures. No one thought I would recover…
And then the miracle happened...
The miracle of Agia Marina of Amirou...
My parents prayed constantly and made supplications every day. Every day when he came to the hospital, my father read me the Greetings of the Virgin Mary. But at some point he asked the Nun of the I. Hermitage of Agia Marina of Amirou Limassol to come to the Hospital and pray with them. He begged her to bring the holy relic of the Saint who is there to crucify me. So it happened. But the strange thing was that: from the moment they got out of the car until the moment they left, apart from my father, no one else saw the Nun. They entered my room, prayed and after crossing me three times with the holy relic of the Saint, they left. Only my father saw her next to him, but not the rest of the world. As if she was invisible... And that was the first miracle.
On December 24th...
Christmas Eve …
My father was next to me, like every day, and he read me the Greetings. The Orthodox Church sings the Greetings every Friday night, during the first 5 weeks of Great Lent. In fact, we cut the Salutations into 4 pieces (called "4 stanzas") and say one each Friday, while on the 5th Friday the whole work is said.
When he got to the fourth track, I opened my eyes. At that moment I felt suddenly a wonderful one fragrance to spread in space, like incense. My father looked at me tearfully and said "Christ if you hear me, make a move. Shall I continue the Greetings?' I blinked my eyes and shook my head a little, meaning for him to continue. They waited day and night for this move of mine...
I have never seen my father so happy, my mother cry so much with joy.
But a few minutes before I opened my eyes...
I had an out of body experience that I will never forget in my life…
The second great miracle…
I was at the funeral that was taking place at that time in my village. I was seeing the world, the dead grandmother that I had never seen before in my life. At one point, a Saint who I later realized was Saint Kendeas approached me and said to me "What are you doing here? Go away!". Then a woman who looked like the Virgin Mary said to me "Give me your hand." That's when I opened my eyes.
Then when I told my friends and relatives about this experience, they told me that indeed on that day and time, the funeral of that grandmother was taking place that I had never seen before in the village. They kept showing me pictures of the Virgin Mary to identify who she was until I saw her picture Virgin Mary of Existing. She was the one who grabbed my hand.
Before I experienced all these miracles, I didn't believe in God that much, but now...
Miracles happen every day. Many people in hospitals experienced and are experiencing miracles similar to mine. Maybe some people will laugh, mock when reading my story, but it will be wrong. God exists and miracles will always happen to remind us that he is by our side. Some people with all these injustices that happen every day, while they believed, lost their faith, but surely at some point they will feel His presence. They will experience or hear a miracle of his and then they will believe again.
My life today…
I suffer from Diplopia (when the eye works basically like a camera. Light enters through the pupil of the eye and the small passage acts like the aperture of the lens in the camera. The image carried by the light rays is focused onto the retina by the lens of the eye, just as the camera lens captures the image on film). I have total hearing loss in one ear and stuttering (it is the disorder in the flow of speech, which is characterized by repetitions, prolongations and blockages). I'm doing speech therapy and the doctors said that my hearing will come back soon. A little more patience...
My message…
Η life has a rule: never the you give up! And the moment is coming life that you really understand that everything happens for a reason. Faith, strength and prayer. Just that!".
Source: Ant1live