The great folk singer passed away at the age of 85 in the early hours of Saturday
The artistic world of our country has yet another significant loss, as Stamatis Kokotas passed away in the early hours of Saturday (1/10).
The great folk singer, who had been fighting cancer for the last four years, died at the age of 85, at the Askplipiio hospital in Voula, where he was being treated.
He was transferred there in the last few days after feeling unwell and although at first his health condition did not seem to inspire concern it finally ended today.
According to the information: "In the early morning, Stamatis Kokotas passed away in Asklipieio Voulas after a rapid deterioration of his health".
Who was Stamatis Kokotas?
Stamatis Kokotas was one of the last sers of the dance floor, a great folk singer, whose songs are still heard today and passed down from generation to generation.
He was born on March 23, 1937 in Athens. His father was a doctor but he lost him when he was still a small child. So, he grew up with his mother and siblings (three boys, three girls).
At the age of 15, he was given a guitar as a gift and that's when he realized that he wanted to work in music. In the 60s he went to the show new talents of the state television together with two of his friends and presented the trio Brazil. Stamatis Kokotas immediately stood out, but his family sent him to Paris to study.
In the City of Light, he started appearing in nightclubs, met Stavros Xarchakos, who discovered his talent, convinced him to return to our country and introduced him to the Greek public.
In the 1960s and 1970s, Stamatis Kokotas had a significant recording presence, with his sales exceeding 100.000 each time he released a hit.
He collaborated with some of the most important Greek composers of the time and performed songs by Stavros Xarhakos, Yiannis Spanos, Apostolos Kaldaras, Dimos Moutsis and Giorgos Zampetas.
His trademark was his extremely long sideburns. It is even said that a razor company offered him a considerable amount of money to cut them, but he refused the offer.
His great love was cars. He was involved in speed racing as a driver and if he didn't find great success as a singer, he would have become a Formula 1 driver. He has previously revealed that he had accepted an offer from Ferrari. "Once Ferrari made me an offer, I was so good, but I refused. I preferred the song and the love that people showed me."
"I have experienced a lot in singing, what should I first remember? There were seasons when people stood in queues - 300 and 500 meters in the cold - to enter the shop where I sang, in the center of Athens and listen to "Oniro Apatilos", many times I sang in the summer "Neraida" until 1 in the afternoon ", he himself has described about his career in an interview with Lifo.
As for death? As he has admitted, "I'm not afraid of him. Not at all. After all, this is what my course shows. I overcame him many times and now he doesn't scare me."
Stamatis Kokotas was the favorite artist of Aristotle Onassis. The story with the ship owner, who sent him his private helicopter to go to Scorpio, his private island, and learn to dance with Jackie Kennedy is well known.
"Onassis and I were just friends and nothing more. I was his entertainer. We happened to be in a lot of company with very difficult people, from kings and nobles. Until the day he left this world, we were the best of friends. He was a good man, a levent and a half. When he saw that someone was bothering me, he went to him and kicked him out", he said to "Proinoo".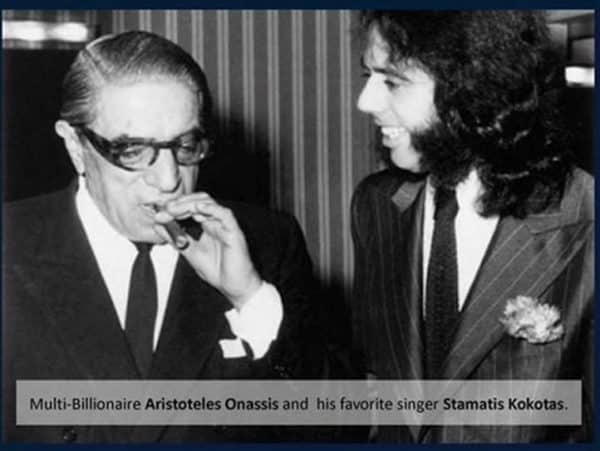 Stamatis Kokotas married twice and had three children. He fell deeply in love and lived it to the fullest. "Love is a mental clarity. When you are in love you have a pure spirit. You have a blur when you have confusion", he has said
in.gr