Some things, like a bed, we take for granted. But some children do not have this or even the basics for their lives.
The following story is true and shows a boy's excitement when he sees his first bed.
Mother and child on the street
An 8-year-old boy, Daeyrs, and his mother, Dionna, have been homeless for most of their lives. Dionna, who worked as a trainee nurse, suddenly lost her job. A short time later he lost their house because he had no money for rent.
The two of them, all these years, were forced to stay in various state accommodation for the homeless, with unique furniture, a few chairs, 2-3 blankets and an inflatable mattress on the floor, where the little boy slept.
After some time, they managed to find a home from the state. Their new home was in Michigan and all little Daeyrs wanted now was a bed of their own. He expressed this wish last Christmas to Santa Claus.
The mobilization
A social worker handling the family case addressed the charity Humble Design. The organization offered free furniture for the whole house. They chose used furniture in excellent condition and filled the house, putting them in a beautiful layout.
The boy's tears
The little one was speechless when he saw his fully furnished and decorated room. He cried in his mother's arms! A room full of bedding, chairs, pillows and toys. His Christmas wish took shape and was now before his eyes. His facial expression says it all.
The whole mobilization for the help of the single-parent family took place in collaboration with the social workers of the state, but also of a charitable organization. The founder of this organization was Treger Strasberg of Humble Design, who oversaw the renovation of Daeyrs' dream home.
He said: "They entered this house but had no furniture and are sleeping on the floor. Seeing how much a bed and a room meant to Daeyrs, I really realized what is really important in life and felt grateful for everything I have.
"He was so excited to have his own room, but also so shocked that after all he has gone through, he now has a place to stay and be a normal child without worries."
Charity
Humble Design went through its warehouse and collected used furniture for the family to make their home look like a real home.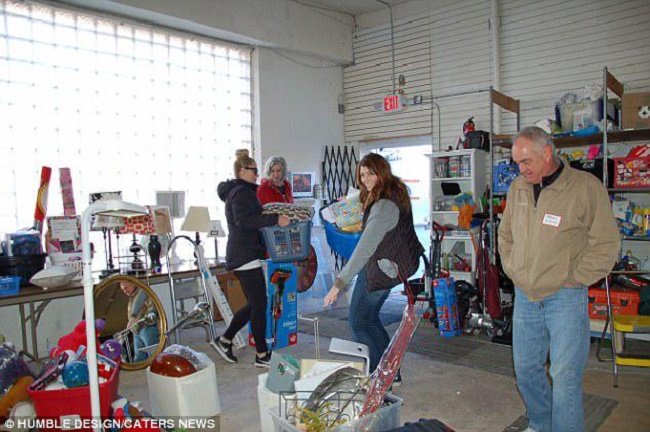 The beautifully decorated house by Humble Design.
This family can now make a fresh start. Dionna and her son are sitting on the couch excited about their new home.
The charity's founder, Treger Strasberg, added: "In 2017, we helped 169 families go through shelters for the homeless and abused. We just want to embrace every family we need. "Our goal is to ensure that no child sleeps on the floor again."

A bed was ultimately what made the little one in the story happy. Think about how many children are in distress and just want the obvious. A roof for their family.
Let us all help our fellow human beings for a better future. Especially children. After all, they deserve it.
via: Enimerotiko