More than 50 international flights are scheduled to arrive in the country during the day
Australia today fully opened its external borders to travelers who have been vaccinated against the coronavirus after being shut down for almost two years due to the pandemic, with tourists returning to the country and hundreds of people reuniting with relatives and friends.
More than 50 international flights are scheduled to arrive in the country during the day, including 27 in Sydney, Australia's largest city, while the tourism and hospitality industries are looking forward to recovery after being pounded by its restrictions. COVID-19.
"It's a very exciting day, a day I've been looking forward to for a long time, since the day I first closed the border right at the beginning of the pandemic.", said Prime Minister Scott Morrison to journalists from the island of Tasmania, which is highly dependent on tourism.
People who have been away from loved ones for months have reunited with their loved ones, such as Cindy Moss, who traveled from Kentucky to see her daughter. "I just did not see her for so long and it was so important that I managed to get here. I am so excited", she said excitedly after hugging her daughter.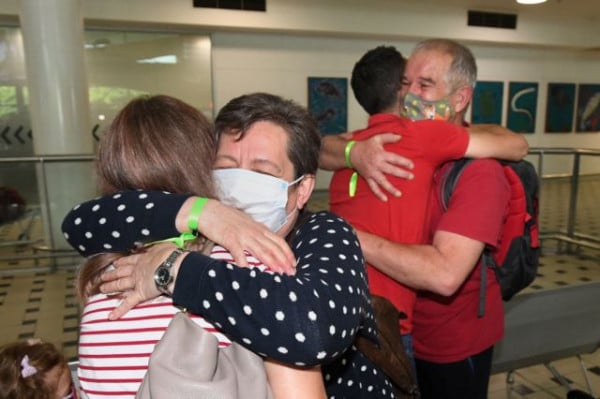 The first flight
For his part, Qantas pilot Paul Grant said he was happy with that "Welcomes passengers on board again".
A Qantas flight from Los Angeles was the first to land in Sydney, followed by aircraft from Tokyo, Vancouver and Singapore.
"We've all been waiting a long time (right now)" said Alan Joyce, CEO of Qantas Airlines.
Tourism is one of the largest industries in the country, with a value of over 60 billion Australian dollars, which employs about 5% of the country's workforce. But the industry has been hit hard since the country closed its borders in March 2020.
The country, once the "champion" of Covid's zero-sum strategy, has since the end of last year moved away from a policy of checks that made it almost a 'fortress' and constant lockdowns and began to learn to live with the virus after succeeding. higher vaccination levels.
The phrase "Welcome back!" painted next to the runways welcomed passengers flying to Sydney while people in kangaroo costumes greeted travelers and a DJ played music from a van.
"It's a party here, music is playing, people are smiling, I'm sure they will dance soon", said Tourism Minister Dan Tihan on the ABC network from Sydney Airport while offering travelers as gifts jars with Vegemite, a well-known Australian spreadable product, as well as plush koalas.
Tihan said he hoped for a "very strong" recovery in the tourism market, with Qantas expected to carry more than 14.000 passengers to Australia this week. Virgin Australia said there was a positive trend in domestic bookings and that it was continuing to assess demand for international flights.
However, all train services in Sydney were canceled today following a wage dispute between the workers' union and the state government, affecting the positive climate created by the return of travelers from abroad.
As the country's borders reopen, the outbreak of the Omicron variant in Australia seems to have already reached its peak with hospital admissions declining steadily over the past three weeks. The majority of the 2,7 million confirmed cases in Australia have been detected since Omicron appeared in late November. A total of 4.929 people have lost their lives.
As of this morning (local time), just over 17.000 new cases and 17 deaths had been reported, with data from the Northern Territory expected to be announced later.
in.gr