Time of death: 15.10. Reason: "old age". Occupation: "Her Majesty the Queen". The death certificate of Elizabeth II, who died on September 8 aged 96, was released today by the National Archives of Scotland.
After 70 years of reign, Elizabeth died at Balmoral Castle in Scotland. Her death was announced by Buckingham Palace at 18.30 local time (20.30 Cyprus time) but Prime Minister Liz Truss was known to have been informed at 16.30.
New details about this event that had a worldwide impact became known with the publication of the certificate, which is signed by Princess Anne, the daughter of Elizabeth II, who accompanied the monarch in her last hours.
Her eldest son, King Charles III, arrived at Balmoral in the afternoon, but her other sons Andrew and Edward, as well as Charles' son William, arrived in the evening. Harry, William's brother who has now stepped down from the monarchy, arrived later, alone.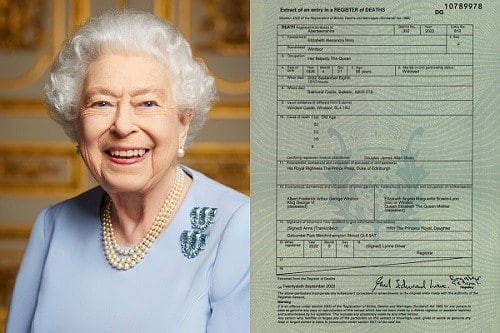 In the "occupation" field of the certificate it says: "Her Majesty the Queen". And Windsor Tower, in west London, is listed there as her "usual" address: that's where she's spent most of her time since her pandemic broke out Covid-19, although Buckingham Palace in the capital is usually the main residence of British monarchs.
If the Queen died in England, there would be no need to complete a death certificate, a legal obligation that applies to subjects but not to the monarch herself.
However, this legal obligation - which dates back to 1836 - does not apply in Scotland, where the law states that "the death of every person" must be recorded.
Last wishes
Elizabeth II's last public appearance was on September 6, when she commissioned new Prime Minister Liz Truss to form a government. The monarch appeared smiling but weak, leaning on her cane.
In recent years, the Palace has maintained secrecy about the state of the Queen's health. They had revealed, after leaks to the press, that Elizabeth spent the night in hospital a year ago for tests, the nature of which was never clarified. At the time, movement problems were reported, while she canceled many appearances.
Mystery usually surrounds the deaths of members of the royal family. It has been customary for over a century, following the death of a prominent member of the British royal family, to apply to the courts to seal the deceased's last wishes.
The wills of more than 30 members of the royal family have therefore been kept secret since 1910, according to British newspaper The Guardian, although British law stipulates that everyone's last wishes must be made public, mainly to prevent fraud and notify beneficiaries.
Source: ΑΠΕ-ΜΠΕ-AFP