The first decade of America's auto industry has a fascinating and complicated history. At first hundreds of players competed to see who would sell speed to the American public who wanted to replace horses.
By the 1910s, the automobile had progressed, and in 1912, William Snyder, Jr., of Sewickley, Pennsylvania, acquired a brand new 50 HP Simplex Toy-Tonneau. Remarkably, his family still owns it today, 111 years after its purchase, and it is set to be sold at Gooding & Company's Pebble Beach auction on August 18 and 19, part of the Monterey Car Week auction program.
The possibility of obtaining a 111-year-old car that has had only one owner, or descendants of that owner, is quite remarkable. With great certainty, this Simplex is an extraordinary treasure for that reason alone. But regardless of this car's origins, the Simplex was a pioneering car of its time.
In 1907, wealthy textile importer Herman Bressel founded the Simplex Automobile Company when he purchased S & M Simplex. The acquisition included the factory and assets in Manhattan, New York, along with chief engineer Edward Franquist's designs of the 597 cc 50 hp T-head engine. The model performed impressively from the start, finishing first in the Brighton Beach 24-hour endurance race and the 1909 National Stock Chassis Race.
In road car form, the Simplex 50 HP could exceed 130 hp and with its combination of speed, reliability and comfort, it became a favorite of America's most elite motorists. Customers ordered bodies from manufacturers such as Brewster, Quinby, Healey and Holbrook. But by 1914, the company was sold to a Wall Street investment group that included the heirs of BF Goodrich, and the Simplex factory moved from Manhattan to New Brunswick, New Jersey.
When the US entered World War I, the factory changed hands again to focus on aircraft engines, and Simplex closed after building a total of about 1.460 cars.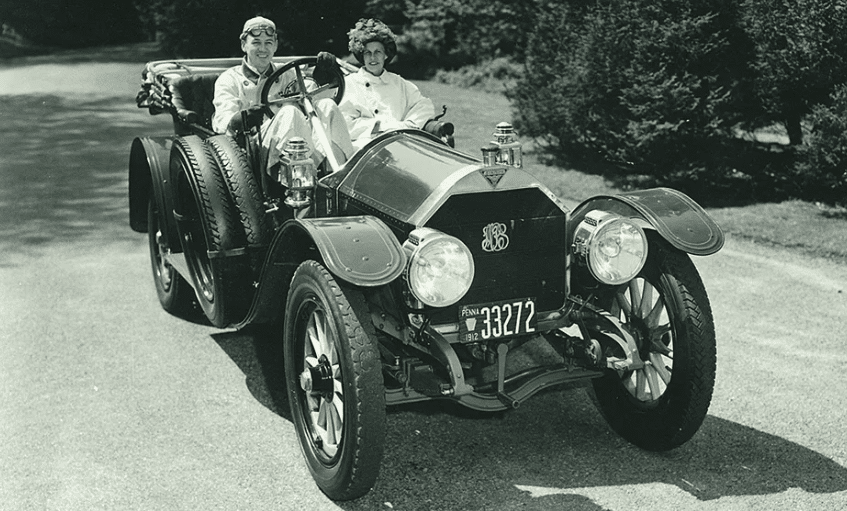 This photo of William P. Snyder III and Mrs. Snyder, in the family's Simplex, was used in a 1953 ad for Gulfpride HD motor oil.
The famous car collector Henry Austin Clarke. he had many Simplex cars. According to Gooding & Company's description, Klar made the following observation based on his first ride on the 50 HP: "With the hood open, the sound of the engine starting sounds like a small disaster at a munitions factory. The sound of the engine at idle is enough to end any discussion of distance. Clutch action was smooth but heavy and the steering only responded with a steady pull. The engine was perfectly capable and had a huge sense of power. As I got into second gear and accelerated, the whole car shook like a wet dog and took off onto the road. By the time we got to fourth, we were going fast, and I was just beginning to realize why people were paying over $5.000 for one of these cars in 1910."
The 50 hp, 597 cc T-head engine allowed the car to reach a top speed of 80 mph. Photo by Brian Henniker, courtesy of Gooding & Company.
In 1911, William Snyder. he ordered his cars from JM Quinby & Co., the New Jersey-based coachbuilder for Simplex cars. In response to his query on June 26, the coachbuilder wrote: "We propose to offer you the latest model 129-inch wheelbase, 50 HP Simplex chassis, equipped with Bosch dual system and four-volt battery, Solar Eclipse headlights, side and rear oil lights , Presto Lite tank and frame work, minus rear fenders for $4.960,00 and delivery in three weeks or as soon as possible."
Schneider requested specified a shorter 124-inch chassis, 50 HP, two-seat body and folding canvas roof, with body painted red He also added his monogram to the bodywork. Shortly after chassis #799 was delivered, it was crashed by its young owner and, at his father's insistence, returned to Quinby to be fitted with more conservative bodywork that might encourage more disciplined driving.
The car offered for auction still wears body No. 3038, the Toy-Tonneau body installed in 1912. The Simplex passed to Schneider's son in 1940 and finally passed to the last generation in 2011. It later won a trophy in its class at Pebble Beach Concours d'Elegance 2013. This heirloom comes with an archive of original documentation, photographs and correspondence dating back to 1911, and carries an accurate estimate of $4 million.
ot.gr