Her death Queen Elizabeth, shocks Britain and sends shivers of emotion around the world at the loss of its longest-serving head of state. But the Palace itself seemed long prepared for the difficult day ahead of the most powerful and much-discussed monarchy in modern times.
Already, for about a year, the 96-year-old Elizabeth, aware of her impending end and her dwindling stamina, had curtailed the activities of her role and her duties were effectively carried out by seven members of the royal family.
The recommendations of the doctors about the burden on her health and the need for rest did not leave much scope. But he did not want, nor did he think there was any point in resigning and retiring in this way. She wanted to stay at the helm until the end and leave exactly as generations and generations knew her: On her throne, with which she identified and on which she put her stamp on the crucial second half of the 20th century and the beginning of the new millennium!
This year was very important for Elizabeth, as she celebrated her platinum jubilee, having completed 70 years on the throne, since 1952 when she succeeded her father, King George V. She thus broke every Guinness record, after she managed to become the oldest, richest, most traveled and most recognizable monarch in the world.
Elizabeth's substantial retirement began last fall, in the midst of a pandemic and with her demonstrating, until then, an enviable commitment to the Queen's duties, carrying out an extremely burdened daily schedule. But it was now obvious that he could not continue at the same pace. As much as this upset her. Everyone realized that the indomitable and "bionic" woman that the whole world had come to know was beginning to struggle from the strain of the constant arduous public engagements that presuppose her blue-blooded presence. Whatever she had been for decades faithful to duty, resilient and unapproachable as a rock on the shores of Dover, the weight of time was taking its toll on her.
In 2019 and while he was 93, he personally attended 295 public events! Excluding her holidays and summer vacations, she averaged five to six times a week!
Since the beginning of 2020, with the spread of the coronavirus, she had begun to isolate herself in Windsor Castle, west of London, with minimal staff, making sure that her communications were only through video calls. Throughout the quarantine period, this particular royal residence was playfully referred to by local tabloids as Her Majesty's "armoured bubble". There, in April 2021, her beloved husband of 73 years, the 99-year-old Duke of Edinburgh Philip, passed away. There she remained herself during her mourning and from there, as she had to, she returned to her official, but constitutionally unwritten, obligations.
As head of state, he received various ambassadors who presented their credentials and presided over the opening ceremony of Parliament, where he delivered the Queen's Speech from her iconic throne in the House of Lords. Without, this time, carrying heavily on her head the precious crown of the crown, which weighs 1 and some kilos, but a light hat in the shade of lavender. And apparently he was not transported from Windsor Castle to the Palace of Westminster in an elaborate golden carriage pulled by white horses, but in an ordinary Range Rover. The same carriage, after all, has been in use since 2002, when the golden jubilee of her 50-year reign was celebrated - and in 2012 she celebrated her diamond jubilee.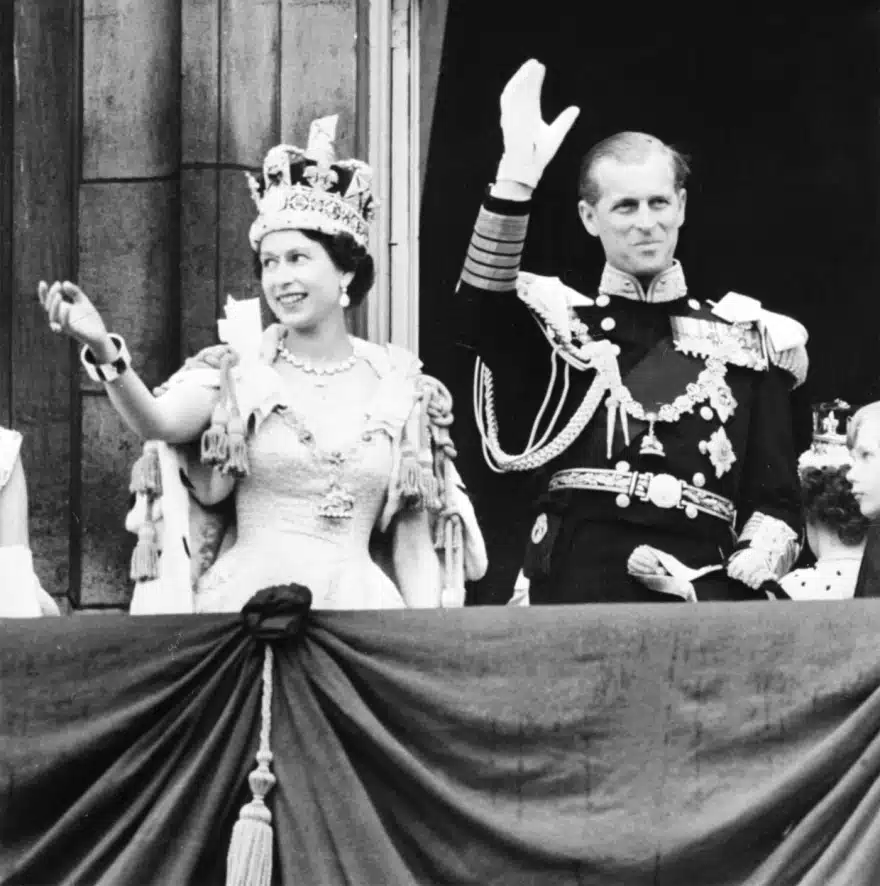 In the 70 years that she remained on the throne, she held four or four domestic prime ministers, attended eighteen national election contests and experienced successive changes of government. He met countless foreign leaders – most of whom have passed into the realm of oblivion. And, of course, as of September 2015 she had surpassed her great-great-grandmother Queen Victoria's 63-year reign. In practice, probably no one will surpass the historically memorable and unique performances of the 96-year-old queen.
Last summer, it was difficult and very different for Elizabeth. Something like the beginning of the end. She left for her customary summer holiday, her first without Philip, to Balmoral Castle in Aberdeenshire, north-east Scotland - where she breathed her last, in a strange twist of fate.
In this stately 'cottage' of hers, on the idyllic grounds of the vast 50.000 acres, her privacy was inviolable. She was not then seen riding, as usual, mounted on the saddle of an over-aged pony, nor walking with her beloved dogs. The palace observers simply concluded that he was modestly and lazily observing. She took the customary sacred break of an hour's nap at midday, enjoyed her afternoon herbal Darjeeling tea, and leafed through the programs of the Ascot, Cheltenham, Yorkshire, etc. races. She dined modestly and drank a watery Dubonnet aperitif, since her doctors forbade her, for the sake of her health, the favorite evening dry martini that her mother, Queen Mother Elizabeth Bowes-Lyon, used to drink into her old age before she died in 2002 at 101 years old.
For such an inexcusable loss of taste in a cocktail of gin, vermouth, a lemon peel and two ice cubes James Bond would rather, with her permission, kill himself than part with it. Elizabeth II just resolutely sealed the shaker. Her cultivated self-control, which equips her with a psychological armor, prevents emotional pressures and addictions. As she had observed at an unsuspecting time herself, "the trouble with grief is that it feeds on itself." And so she continued, without any admixture of alcohol, undeterred, her idle daily life. Every Sunday he visited the small Gothic church of Crathie Kirk with its stained glass windows and wooden roof in the parish of the same name adjacent to the castle, to attend divine service. Perhaps he realized that old age comes when regrets abound and dreams dwindle.
Otherwise, dwelling in a landscape of serenity and breathtaking beauty, she wrote as usual before scribbling a few lines in her diary, saying her prayer and falling asleep. In the morning she awoke to the typical sound of the bagpipes emerging from its pouch outside the royal bedroom window. No other unnecessary waste of energy, except for a nearby picnic with her young great-grandchildren, children of her eldest granddaughter, Olympic equestrian Zara Tyndall, daughter of Princess Anne – the second of Elizabeth II's four children. She was also visited, as usual, by her 73-year-old son, Prince of Wales Charles and his wife Camilla, Duchess of Cornwall, who were accommodated in one of the castle's 52 bedrooms. The dullest pair of Royal Highnesses on the planet, with as much energy as a retired butler's clock out of tune, were obviously welcomed by the weary hostess. Nevertheless, with such a leisurely holiday the Queen returned a year ago, in September 2021, visibly more exhausted than when she left. Coincidentally, the latest James Bond film No Time To Die premiered in London during those days.
The first rumors
In mid-October she appeared attending a service at Westminster Abbey supported by a cane, her first public appearance since as far back as 2003 when she was recovering from an operation on her right knee. The initial surprise was accompanied by a scattering of rumors surrounding the state of her health. Other events followed that intensified the alarming rumors. After canceling her two-day trip to Northern Ireland, an overnight stay on October 20 at King Edward VII's Private Clinic in Marylebone, central London, was announced. At the same time, Buckingham Palace's office, more royal than the Queen's, was issuing cryptic press releases with the dropper. The scant details they contained were in stark contrast to the lurid announcements of her one-day hospitalization for gastroenteritis at the same hospital in 2013.
The case reeked of a cover-up. And while the official announcements took on the unimaginable form of opacity for the institution, the concern gradually turned into a suspicious effervescence. In the next tone the Queen did not appear at the quinquennial General Assembly of the Church of England. For the first time a monarch - who holds the title of supreme ruler of the Church of England - was absent from this important meeting of its bishops. A fact that exacerbated the scenarios of her being infected by coronavirus. She was replaced at the event by her youngest son, Prince Edward, who delivered a speech on her behalf. She sent an emotional video message in which she remembered her late husband. The remarkable thing was that in it he stated that "none of us can slow down the passage of time". Her sentence did not go unnoticed, without, however, mournful pleas.
Sad thoughtfulness
It then canceled its participation in the 26th United Nations Climate Summit in Glasgow. In Scotland's largest city, the 120 world leaders were welcomed and received on her behalf by Prince Charles. Again Elizabeth II addressed herself by remote message. In which, among other things, he repeated: "None of us lives forever." Inevitably, a melancholic furore arose with various interpretations of what he meant, what he alluded to, where he was looking, to whom he was addressing, and so on. The queen rarely if ever used obscure oracles in her speech.
But enthusiastic royal pundits, who extolled her longevity, graceful aging and confidently predicted that her hardy genes would outlive her mother, were met with skepticism. The drops of their sad thoughtfulness almost turned into a flood after the Queen canceled at five o'clock her participation in the commemoration in which she pays tribute to fallen British and Commonwealth soldiers at the Whitehall Cenotaph in London. Charles was again recruited to represent her and lay a wreath on her behalf. A fact that disappointed palace watchers explained that the Queen will no longer attend large-scale engagements.
The succession talk
Talk of Elizabeth's succession had been raging for months, especially after these incidents. In the line of succession, Charles is first, followed by his first-born son, Prince William, Duke of Cambridge, and then third is his own first-born, 8-year-old Prince George, or simply George. Already some of her duties have been assigned to other members of the royal family, who fulfill them in the order of their kinship in the scale of the throne. Charles and Camilla, William and Kate, her daughter Anne, her son Edward and his wife Sophie had already been mobilized by participating in the "operation" of carrying out royal duties, in order to relieve her of the previous period of laborious, exterminating liabilities.
The British press, at the time rejoicing in their like-minded cohesion, praised them as the "Magnificent 7".
For the Queen herself, who had calmly experienced the antics of her grandson Harry and the sexual scandals of her son Andrew, her immediate relatives might not have exceeded the height of the "7 dwarfs". He did not treat them with the coquetry of white hair. But with the maturity of the elderly man who "had four hundred" until his last breath. And distanced from the trivial goodies, she realized that the time to the finish was running faster. After all, from the height of almost a century of life and from the podium of uninterrupted presence in public life, he had built a refined as well as majestic figure. The dull immobility of the last few months did not suit her. He knew the words of Victor Hugo, which summarize that doing nothing is the happiness of children but also the unhappiness of super-adults. He bore her stoically. The glorified backlog of 70 years since her return to the British throne was a key, but ultimately insufficient motivation in the face of fate.
Acceptance of 72%
Elizabeth always enjoyed great love and acceptance from her subjects. She had won them over with both her style and her demeanor.
And the costumes from her traditional wardrobe, made her a familiar figure for the world. She used midi coats and light 60s-style mandos in stark monochrome and fluo hues from across the rainbow palette, over florals, a safe preference, frocks of length to slightly below the knee. She paired them with matching hats, sometimes decorated with flowers, decorative lapel pins and pearl necklaces. She rarely wore gloves and printed scarves, but she always kept exquisitely crafted leather bags by the London house Launer, which she did not renew but repaired.
She always stood or walked in the same, or better, the same pair of shoes, which constituted her clothing fetish. Comfortable, black, soft leather, with a low heel, 5,7 cm high to be exact, and a gold buckle, which looked a lot like Gucci ones. But in reality, they were made in the long-established London store of famous shoemakers Anello & Davide in Covent Garden.
In this style, her ever-distinct presence, with her perfectly coiffed hairdo and spare make-up met the approval of 72% of her subjects – an approval rating unmatched by any other Western-ruled republic. Her people loved, respected and esteemed her because her highness shared both their anxieties and their hobbies, as well as for the decency she displayed towards the deviations, vagaries and whims of her family members, and also because he had plenty of humour, which only the British laugh at. It is, after all, well known that in this way, that is, with a joke or two, he smoothed out certain embarrassing situations, in defiance of the formal traditions of the Palace.
The common people also felt close to her when they saw her driving a green Jaguar X Type station wagon, hooked on the steering wheel, wearing a scarf and sunglasses, after her cataract surgery. In fact, he was excited when "Lillibet", as she was fondly called in the family, despite her established neutrality, it is reasonably assumed that she was a fan of West Ham, but that she was not close to Arsenal either. She was also admired for her love of animals, especially her love of horses, including of course the 100 thoroughbred racehorses in the royal stables, and for treating her dogs, such as the small Welsh corgi, with tenderness. Above all, however, the British adored her because she was the only queen in the world so well trained in Mechanics, since she could easily and without any help change a spark plug in a Rolls Royce in the palace parking lot. As well as being able to screw a light bulb into the palace chandelier, which consumes as many watts as to light a third world slum.
With information from First Issue