A 31-year-old TikToker entered the Guinness Book of World Records thanks to her elasticity mouth while it has gone viral on the internet.
31year Samantha Ramsdell from Stamford, Connecticut, has gone viral many times thanks to its unique appearance – with its mouth opening 14,5cm wide and 6,5 – 6,7cm at the vertical opening.
Her world record was confirmed at her dentist's office in South Norwalk. Dr. Elke Cheung measured Ramsdell's mouth from tip to tip and found it to be the largest female mouth on Earth.
Samantha, who works as a medical sales representative, told Guinness that she feels "wonderful" now that her mouth is "celebrated", having once been a huge insecurity.
She turned insecurity with her mouth to her advantage
"To be 31 and to be able to get a record for something that I really was so insecure about, something that I wanted to keep so small, is great because now it's one of the biggest, best things for me.", explained.
"If I had to give advice to anyone who has something big on their body or something really unique and wants to try and go for the Guinness World Records title, I'd say go for it! Do it proudly and make it your biggest asset. Is superpower your. It is what makes you special and different from everyone else around".
Another talent he wanted to present at the beginning
Samantha originally started her social media accounts to showcase her singing talent, never knowing that her mouth would attract such attention.
In 2019, Samantha only had around 300 followers on social media, but now has 1,7 million devoted fans on TikTok, where she is with the account @ samramsdell5.
"I lost over 22kg two years ago and got my confidence back", Samantha previously said in November 2020.
"I started taking singing lessons and then posting my singing videos on Instagram. I fell in love with improv and comedy and started posting more of that on social media as well. I made a TikTok account in the fall of 2019, but didn't really start consistently posting until Covid-19 hit in April 2020."
@samramsdell5 Questions I get about having the worlds largest mouth for a female 😬 #SummerMashup #bigmouth ♬ The Magic Bomb (Questions I Get Asked) [Extended Mix] – Hoàng Read
"It started growing in popularity because of it lockdown, and I did a lot of funny videos of my face, comedy skits, and singing skits. But any video involving my mouth and the faces I can make has always gone insanely viral.", he said.
"One of my biggest videos was responding to a comment someone made to me, asking me if I'm insecure about my mouth. I responded with a silly video, mouth wide open, and said "I used to be insecure, but it's part of me, so now I let my big mouth shine in the sun!" This resulted in me reaching 100.000 followers in August. My next huge viral video was doing a challenge, which got me to almost 500.000 followers."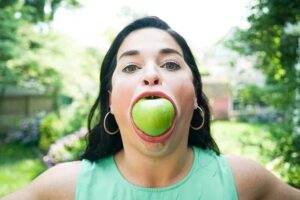 via: Enimerotiko