With the pain and sadness painted on their faces and the unanswered why they are tortured five days after the car accident in Vouliagmeni, relatives, friends and hundreds of fans of the trapper Mad Clip met yesterday at noon for the last farewell at the cemetery of Paleo Faliro.
Tragic figures are his own people who even traveled from America in order to be here on this day, as well as his collaborators from Panic Records such as Paris Kasidokostas, Tamta and Eleni Foureira.
With the singer who is in a bad psychological state, the trapper a little while earlier had shared the same scene at the wedding where they were invited to the Island, singing many of their hits.
Watch videos outside the temple in Paleo Faliro
There was also his ex-partner Areti, with whom, although they were in the phase of reconnection, they did not manage to say what they really wanted to each other. The beautiful brunette, as revealed by Faye Skorda yesterday at the premiere of the show "Breakfast", after her own information, was behind the fatal race, as a result of which she is still in a bad condition.
The trapper Light, a friend of Mad Clip, who was one of the first to see his last image in the wreckage of the black Porsche, as well as the firefighters fighting for his release, were also devastated.
In the last farewell was found ordinary people who may not have known the favorite singer of youth but were moved by his story and especially his ignominious escape from this life.
Everyone was there to say goodbye to him with applause, others shouting "Immortal" and "Have a good trip", and others either with his songs at the end or gas from "teased" cars and machines that he loved so much.
After all, he himself had admitted it when after the news that last February he was running too fast and did not stop for control, as a result of which there was a pursuit and arrest, he wanted to give his own explanations with a video on instagram.
He admitted that he was chased and then taken to the police station. "It simply came to our notice then. I'm a pimp. I'm gasping. I like m @ l @ kia, what to do. Of course, I escaped from the patrol car, I entered the national team, I continued to run and at the first exit of Tavros I go out and it happens that the DI.AS team falls for me ".
The episode, according to him, was inflated by reports that said he passed four red traffic lights, something that never happened, because as he said he would never endanger other people's lives.
Pete, as his friends called him, has lived and breathed music since the time he first heard rap music in New York and as a kid even immersed himself in 2Pac and Nottorious BIG.
He had even admitted it in an interview: "Do you know what I understood then? That, my friend, with music you become immortal. Even artists who have passed away, you listen to them and they are as if they are coming to life again. I then said to myself that it does not make sense to just live, die and be remembered by no one. I did not start music for money. I wanted to leave a legacy, a story, a footprint. May someone ever listen to me and say that Mad Clip was a lad who did something. "
See related photos:
They said goodbye to him with "gas"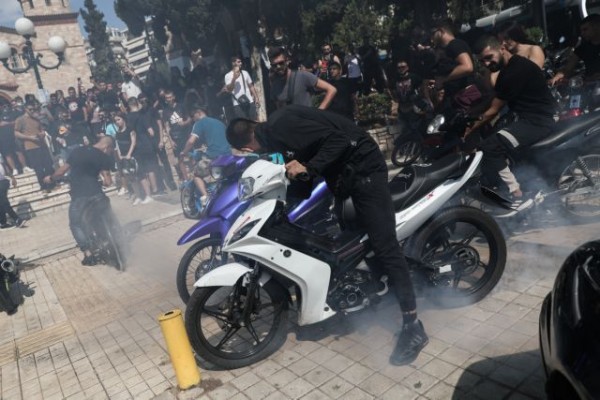 Source: Protothema.gr