Costas Koumis is one of the people who knows very well the tourism of our country. Hailing from the province of Famagusta, a province that is synonymous with specialization in the tourism industry, the Vice President of the CTO, describes in the insert of the newspaper SIMERINI "The New Dynamics of the Province of Famagusta" released on Sunday, August 26, the opportunities that open up but also the new challenges that entrepreneurs in the sector are called to face.
How do you evaluate this year's tourist season?
Personally, I think we are going through a good tourist season if we take into account that the total arrivals in general are at the same levels as last year and if we take into account that our country recorded a jump in arrivals of 53% in five years.
Look, our country from 2002 to 2014 received annually around 2.4 million tourist arrivals and in fact we had a period during which arrivals decreased below 2.2 million arrivals.
In 2016, the big leap was made due to many factors and our country exceeded for the first time the 3 million tourists that was a long-term goal of the state. Indicatively to mention that in 2016 we had almost 3.2 million tourist arrivals. In 2017, the rise continued and the statistical service of our country recorded 3 tourist arrivals.
My personal view is that at this time we should focus our efforts, private sector and state together, with the aim and goal of stabilizing around these numbers.
In relation to this year's tourist season, I repeat that both the airport measurements and the statistical measurements of the state statistical service record an increase. Indicatively, I should mention that for the period January - July, the airports of our country record an increase of 8%. Another noteworthy element recorded in the mentioned measurements is the reduction of passenger traffic from the Russian market.
What do you think is the reason for this increase in arrivals in recent years?
There are several reasons that led to this rise. Personally, I consider the decision of the government of May 2013 to grant urban incentives to the hotel industry as the most important. This inexpensive decision, led to the upgrading of hotel companies throughout our country, caused an increase in beds, and naturally led to an increase in total arrivals, since a period of increased demand followed.
Simply put, we would never have exceeded 3 million visitors if this decision had not preceded it and if the Cypriots were not characterized by business acumen.
"I believe that in our country, tourism has always been wronged in terms of supporting infrastructure development, and this certainly applies to both Protaras and Ayia Napa, which for many years now account for 45% of overnight stays."
What were the other reasons?
Certainly, the tourist Cyprus was also favored by external factors, but other factors, such as the improvement of our country's air connection and the targeted promotional moves of our country by the CTO, also contributed to the increase in arrivals.
Despite the fact that you are referring to a good tourist season, in the Province of Famagusta the opinions differ. We hear and receive many complaints from industry professionals. How do you comment on that?
We agree that opinions differ. We also receive complaints from professionals in the field. There is an explanation for everything.
The level of competition has risen sharply in all sectors. This applies to both hotel and catering businesses and most businesses in the tourism industry.
We have previously mentioned an increase in beds. An increase in beds means that in conditions of constant demand the level of internal competition rises. For companies that belong to the catering industry, the issue is more complicated as the tourist of our time has many options. Inside the hotel, outside the hotel, inland, in a tourist area, etc.
All this shows that tourism companies now operate in a very competitive environment, an element that characterizes destinations with some years of history.
This means that extra effort is required to maximize profits or increase market share. The provision of quality services and the excellent location no longer automatically lead to profitable results. Effective promotion and proper human approach before and after the service are required and of course many more.
However in the case of Protaras and Ayia Napa, one explanation for the complaints we receive and receive is that they have been affected by the shrinking Russian market, given that 40% - 43% of Russian tourists visiting our country stay either in Protaras or in Ayia Napa.
So do you consider the complaints justified?
I think there is an explanation. The reduction is of the order of 3% -6% in Cyprus per month and I am referring to the months of May, June and July. It is not so big as to justify so many and intense complaints. This is recorded by the statistical service and this is confirmed by the measurements of the airports. Of course, the performance of the Russian market varies from region to region and from company to company, so some companies may have been more affected.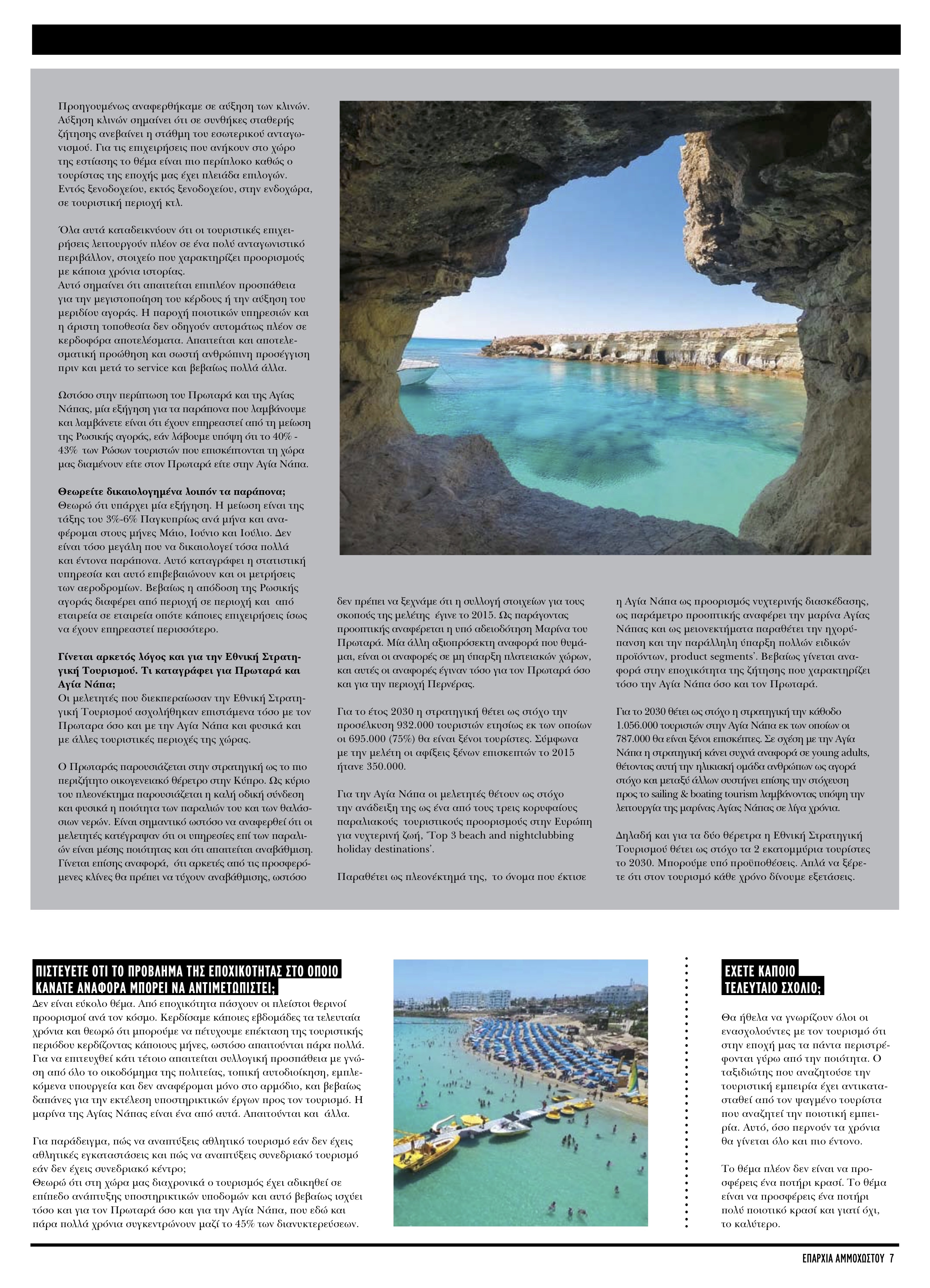 There is a lot of talk about the National Tourism Strategy. What does he record about Protaras and Ayia Napa?
The scholars who carried out the National Tourism Strategy were closely involved with both Protaras and Ayia Napa and, of course, with other tourist areas of the country.
Protaras is presented in the strategy as the most sought after family resort in Cyprus. Its main advantage is the good road connection and of course the quality of its beaches and sea waters. It is important to note, however, that the researchers noted that beach services are of average quality and that an upgrade is required. It is also mentioned that several of the offered beds should be upgraded, however we should not forget that the data collection for the purposes of the study was done in 2015. As a factor of perspective is mentioned the licensed Marina of Protaras. Another noteworthy report that I remember is the reports of non-existence of square spaces, and these reports were made for both Protaras and the area of ​​Perneras.
For the year 2030, the strategy aims to attract 932.000 tourists per year, of which 695.000 (75%) will be foreign tourists. According to the study, the arrivals of foreign visitors in 2015 were 350.000.
For Ayia Napa, scholars aim to make it one of the top three beach tourist destinations in Europe for nightlife, 'Top 3 beach and nightclubbing holiday destinations'.
It cites as its advantage, the name built by Ayia Napa as a destination for night entertainment, as a parameter of perspective it mentions the Ayia Napa marina and as disadvantages it cites noise pollution and the parallel existence of many special products, product segments'. Of course, reference is made to the seasonality of demand that characterizes both Ayia Napa and Protaras.
For 2030, the strategy aims at the descent of 1.056.000 tourists to Ayia Napa, of which 787.000 will be foreign visitors. In relation to Ayia Napa, the strategy often refers to young adults, setting this age group of people as a target market and, among other things, also recommends targeting sailing & boating tourism, taking into account the operation of Ayia Napa Marina in a few years.
That is, for both resorts, the National Tourism Strategy targets 2 million tourists in 2030. We can under certain conditions. Just know that in tourism every year we give exams.
Do you think that the problem of seasonality that you mentioned can be addressed?
It is not an easy matter. Most summer destinations around the world suffer from seasonality. We have gained a few weeks in recent years and I believe that we can achieve an extension of the tourist season by gaining a few months, however a lot is required.
To achieve this requires a collective effort with knowledge from the entire state structure, local government, ministries involved and I do not refer only to the person in charge, and of course costs for the implementation of support projects for tourism. Ayia Napa Marina is one of them. More are needed.
For example, how to develop sports tourism if you do not have sports facilities and how to develop conference tourism if you do not have a conference center.
I believe that in our country over time tourism has been wronged in terms of development of support infrastructure and this of course applies to both Protaras and Ayia Napa, which for many years now account for 45% of overnight stays.
Do you have one last comment?
I would like all those involved in tourism to know that in our time everything revolves around quality. The traveler looking for the tourist experience has been replaced by the sought after tourist looking for quality experience. This will become more and more intense as the years go by.
The point is no longer to offer a glass of wine. The point is to offer a glass of high quality wine and why not, the best.
Source: Insert of the newspaper SIMERINI "The New Dynamics of the Province of Famagusta" (26/8/2018)