The image of a 23-year-old woman who went to a clinic to correct them is shocking lips her and instead came out swollen all over her face.
She had a very unpleasant experience 23 year old Ruby from Newcastle, England, who wanted to fix the potion on her lips, but apparently due to an allergic reaction, it swelled up so much that it became like Donald Duck - the famous Disney cartoon duck.
The 23-year-old posted her experience on TikTok, in a video that has garnered more than 2,6 million views.
"Within seconds of the injection, I started to swell, but the nurse continued and said that a little swelling was obviously normal", Ruby initially said: "I was afraid I would be permanently disfigured and the swelling never went down".
The extreme swelling began to spread to her jaw, cheeks and nose: "My mum drove me to the nearest hospital in a mad panic. We are not from the area so I had to direct her from google maps which only added to our stress and worry.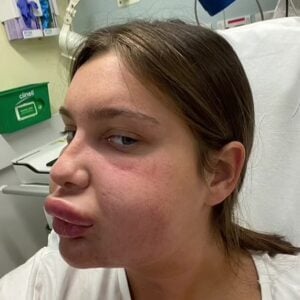 Once we got there, I went right past the front desk while my mom was giving me my details. I went straight to the main ward where I was seen straight away due to the excessive swelling of my face.".
At the hospital, Ruby was given steroids and antihistamines, but was told that was it "very lucky", as it could have been much worse.
via: Enimerotiko