In an emotionally charged atmosphere, the first Divine Liturgy after 2 was performed on the morning of Saturday, June 2018, 1974, in the holy temple of Archangel Michael in the town of Lefkonikos.
This temple, which gathers the history of centuries, many people and cultures, with the patron saint of Archangel Michael dominating the southern aisle, was saved from destruction and officially surrendered in October last year, after the completion of maintenance work and the promotion of which was carried out by the Technical Committee for Cultural Heritage.
Since then, repeated and persistent efforts have been made by the occupying authorities through the UN to secure the relevant permission for the Divine Liturgy.
The Eucharistic meeting was presided over by the Most Venerable Metropolitan of Constantia and Famagusta, Mr. Vassileios, accompanied by the Protosyggellos of the Holy Metropolis, Archim. Augustino Kkara, Prot. Iraklidios Xiouros and the Deacons Epiphanios Papantoniou and Nikolaos Papantoniou. At the end of the Divine Liturgy, a prayer was said and the memorial service was held for all the sleeping residents of the town.
Dozens of believers, of all ages, refugees from the town of Lefkonikos and elsewhere, flooded the interior and courtyard of the temple to participate in the Divine Liturgy. Also present were the Mayor Mrs. Zina Lysandrou-Panagidi, the MPs of Symi Famagusta Kyriakos Hatzigiannis and Georgios Karoullas, the Chairman of the Committee of Occupied Municipalities and Communities Mr.
In his sermon, Panierotatos referred extensively to today's Gospel passage, which is read on Saturday after the feast of Pentecost, which includes all the meaning of the Gospel teaching and the Lord's exhortation to all people, regardless of race, regardless of religion or nationality. τοὺς ἐχθροὺς ὑμῶν, εὐλογεῖτε τοὺς καταρωμένους ὑμᾶς, καλῶς ποιεῖτε τοῖς μισοῦσιν ὑμᾶς καὶ προσεύχεσθε ὑπὲρ τῶν ἐπηρεαζόντων ὑμᾶς καὶ διωκόντων ὑμᾶς · ὅπως γένησ τοῦ τοῦὶὶ υο ν οὐρανοῖς · ὅτι τὸν ἥλιον αὐτοῦ ἀνατέλλει ἐπὶ πονηροὺς καὶ ἀγαθοὺς καὶ βρέχει ἐπὶ δικαίους καὶ ἀδίκους. ''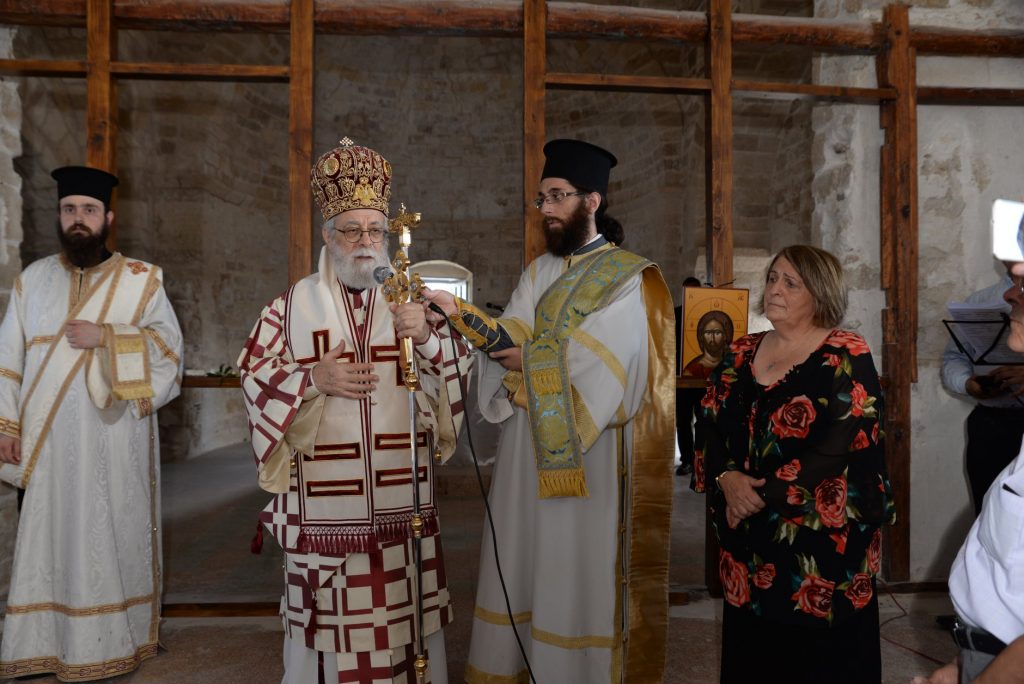 He also expressed the satisfaction of himself and the local church for the performance of today's Divine Liturgy and wished soon through the embassies of Archangel Michael to be able to freely perform our religious duties in a free and reunited Cyprus.
After the end of the Divine Liturgy, the Mayor Mrs. Lysandrou gave a short greeting, thanking everyone for their present day and presence, the Ministry of Foreign Affairs and the other services for the valuable help in order to make it possible. Divine Liturgy and in turn wished Almighty God to shorten the time of trials for all refugees, the town of Lefkonikos and our homeland.
photo: Haris Chatziiordanis
Famagusta.News