He had to convince Paramount that "The Godfather" was a good bass film and agreed to fund it.
He had to explain to them again why the "Chinatown" script was not. Incomprehensible.
There were balls with him Coppola, to such an extent that they stopped talking. And if we have to say it, there was no other movie that helped as much in the fight against infertility as "Love Story"!
All of them had in common the same brain behind the great masterpieces of Hollywood, the man whose cinematic legend was surpassed only by his personal story, where the incredible success and decline of drugs took him even higher in the consciousness of the world.
Robert Evans is now a thing of the past. He recently passed away at the age of 89, having done everything. And giving us his great legacy, a series of such emphatic titles that would embarrass entire studios.
The films "The Godfather" (1 and 2), "Chinatown", "Rosemary Baby"," Marathon Man "(" Manhunt ")," Serpiko "," The wonderful Gatsby "and so much more, but also a handful of scandals that gave him the kind of dark myth that Los Angeles loves so much.
After all, Paramount finally made him its manager and he rewarded her by winning all the market bets, but also the hearts of the world. And from the last of the big studios he sent her back to the top. Directors such as Francis Ford Coppola, Sam Beijing, Roman Polanski and John Schlesinger owe their careers to him.
It is often said that Bobby Evans did not touch the American dream, it was the American dream with flesh and blood. Extremely ambitious, handsome, crazy and ruthless, he passed like a siphon across the plate, burning hearts and opening roads.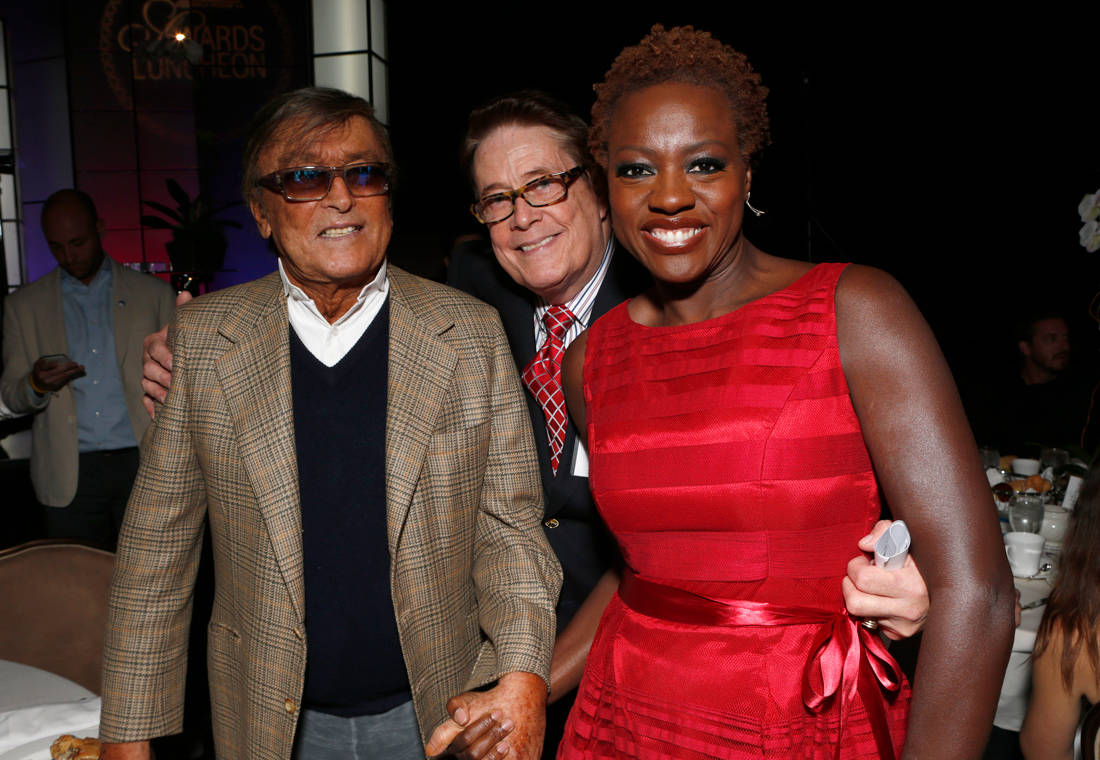 He made the model, the actor and the producer after all, while he was none of that. Or was it all together. First and foremost, however, was Bobby, an elusive guy whose life spanned obscure headlines in major newspapers and scandal-ridden magazines.
If we want to say his life in titles: he made 7 marriages and they all lasted from 9 days up to 4 years at most. He rolled on cocaine and drank alcohol, became involved in the Polanski scandal, became involved in the paid and highly mafia-style assassination of Roy Radin (a major financier of the Cotton Club), dismembered, devalued, and made one failure after another.
And when everything seemed to have paid off, he was magically reborn from his ashes! He worked with Paramount until last summer, through his own production company, before Paramount announce that he cuts each batch with him. Until the end, Bobby Evans did not stop provoking and that is exactly it.
The man who grabbed the Mecca of cinema by the hair, a phenomenon of the movie world that is all of the above and no doubt even more that we will never know. We neither can nor need it εξ
A young man of good company tries his luck in the sail
Born in New York, Bobby grew up in the city's big lounges, as his mom was the offspring of a wealthy family. He described his parents as "second generation Jews", who ensured a comfortable childhood.
Entrepreneurial business from a young age, he started with his brother a women's clothing company, before he was discovered in the cinema in 1956.
It was on a business trip that the old Hollywood diva, Norma Shearer, saw him in the pool of a luxury hotel in Beverly Hills, alas, and found him extraordinary to play the role of her now-deceased ex-husband and great-grandson of the former child Ilberg. miracle that made her Metro-Goldwyn-Mayer colossus).
Bobby is actually playing in "The Man with a Thousand Faces" (1957), only there is an awkward detail: he is completely atalant! But he always had his way with people, and so he convinced the otherwise ruthless 20th Century Fox producer Daryl Zanuk that he was a star.
Zanook believed in him so much as an actor that on the set of "The Sun Rises Again" (an adaptation of Hemingway's novel) with Ava Gardner, at a time when everyone was complaining about his incompetence, everyone was like him. Hemingway and Gardner, the producer said this classic "the little one stays in the movie"!
Which would become the title of Evans's autobiography ("The Kid Stays in the Picture") years later, a work that reintroduced him to the world and gave birth to a late phenomenon in American cinema.
A few films later, it was clear that he did not do for an actor. And so he said to turn it into a producer. He had taste, he had a cinematic sense, he had the stomach he needed and of course he had the money. He had no experience of course, but these were small things in the Mecca of cinema…
Major producer at once
Evans's career shift coincided with the time when rogue business trusts began to take over large parts of Hollywood. And there was one such group, Gulf + Western, that would give him the opportunity he was looking for.
Realizing that he would never become the big star of acting, Evans set out to become a producer. But by the time he made his first film, Gulf + Western would have hired him in 1966 as production manager at Paramount, the colossus' new acquisition!
He was hired by the group boss himself in a move that shocked Hollywood. Even better, he hired him when he read a bizarre profile made to him by the New York Times by Peter Bart, still a journalist (he later became the same producer).
By the time this happened, Evans had already bought the rights to a 1966 novel that would eventually make a film. His first film. It was "The Detective" of 1968 with him Frank Sinatra, Robert Diwal and Jacqueline Bisse. Bart wrote the article for this film, which convinced Gulf + Western boss to make Evans the director of Paramount. Evans's first hiring in his new duties, Bart!
When Bobby took over, Paramount was blowing the whistle. It was now in ninth place in the big Hollywood studios, far from its glorious times. Despite his inexperience, Evans would make it again not only profitable, but also No. 1 in Hollywood!
Within 7 years he made 17 films, classic works, great works. The first and second "Godfather" (1972 and 1974), "Serpico" (1973), "Harold and Mont" (1971), "Conversation" (1974), "Rosemary's Baby" (1968), "Robbery in Italian" (1969), "Love Story" (1970), "Strange Couple" (1968), "Barefoot in the Park" (1967), "True audacity" (1969), and even "The Great Gatsby" (1974)!
And then, in 1974, at the height of his prosperity, he got bored! He no longer liked to make movies with the final say that someone else had him. He wanted his independence, the kind of creative freedom that studios suppressed. And then he would become the ultimate king of the independent American cinema of the 70s, this anti-hero cinema that we love so much.
Until then, of course, he had managed to "fight" with Coppola for his casting Marlon Brando! Paramount knew he was giving up gold to let him go, so he offered him something unthinkable for the business world: stay in charge of the studio and return if he wanted his own, independent productions.
And Bobby accepted it and the first such film was Polanski's "Chinatown" (1974)! His artistic and commercial triumph was such that one morning he was sent to the office of the Gulf + Western general to tell him that he was leaving Paramount for good.
Between 1976-1980, the now independent producer gave us films such as Schlesinger's "Manhunt" with Dustin Hoffman, Frankenheimer's "Black Sunday", "Popeye" with Robin Williams and others. After 1980 his activity stopped and he made only 2 films in 12 years, the famous and significant for him Coppola's "Cotton Club" (1984) and "Two Jakes" (1990) directed by Jack Nicholson.
From his last productive decade, 1993-2003, stand out "Sliver" with Sharon Stone, "Jade" by Fridkin, "Saint" (1997) with Val Kilmer and "How to split in 10 days" ( 2003) with Matthew McConaughey and Kate Hudson.
The bohemian type
Until the mid-1970s, Evans was at the top of the star system. He made millions, made everyone around him rich and won prizes and laurels. He now met with figures from the political scene and the fact that Henry Kissinger himself accompanied him to the premiere of "The Godfather" had been commented on in various ways.
Until then, however, he was also a true cocaine addict, as he told us in his memoirs, and his addiction to drugs and alcohol would leave its mark on both his life and his career. Bobby was that mix of bohemian and bum that no longer exists.
Even with Mafia he was doing well, always keeping, say, Sidney Korshak, a trade union lawyer and Chicago Mafia broker, close to him. Only that coca would put an ignominious and premature end to his career there in 1980, when he pleaded guilty in court to cocaine trafficking, while he was a simple user.
And then came the "Cotton Club" scandal. Coppola's film was in production when his main financier, Roy Radin, was assassinated. One of his exes and three close associates were eventually convicted of the brutal murder and despite the fact that he was not found guilty, he suddenly turned into a Hollywood outcast. Because he was silent.
"I'm already counting 10 years of a horrible, Kafkaesque life," he told the Times in 1993, "there are nights when I cry until I fall asleep." Time, the removal from abuse and his legendary autobiography gradually restored his reputation and Evans would return to production, always maintaining his distinctive style.
This was, after all, consistently the most interesting part of his life, not his talent as a producer, but his scandalous life itself. He also said that he had Dustin Hoffman in mind when he played his role in Barry Levinson's "The President, a Pink Scandal and a War" (1997).
Despite his 7 marriages, the love of his life was Ali McGraw, who left him in public and particularly humiliating in the eyes of her co-star in "The Getaway" (1972), Steve McQueen! She told the Times after their divorce in 1973 "next to him I was the golden girl, when I divorced him I became the stigmatized sinner", he fell into drugs.
In a Hollywood dominated by the immorality of money, vanity, ephemeral glamor and fierce competition, Evans gave him something to remember for a lifetime. His frantic parties that brought together the rich with the stars, drugs and alcohol with high gastronomy and great life, remain the culmination of his extra-cinematic action.
His own parties were, you see, dreamy gatherings, bringing together not just money with attendees of the seventh art, but the real foam of capital and the artistic world.
That's why he managed to stay alive even in the midst of his scandals. The case of the murder during the "Cotton Club" period crippled him, while he probably had no involvement. Like his conviction for cocaine trafficking. "Badly," he said, "I was just a user."
Generous and mischievous, a real lover and a great connoisseur of cinema but at the same time a dude from the few. An incurable woman, without ever finding anyone to accuse him of harassment or abuse of power. Evans had his way with the opposite sex and did not need one.
He was indeed the epitome of a former elite, the man who unlocked the heavy studio doors for the creators and gave them not only the keys but plenty of delivery. And he did everything for the cinema, from which he made money and lost money. All about the artistic result, this risk that only visionaries know and take.
He suffered a series of strokes, and yet he endured a little more, "I have to endure a little more," he writes, to make other films. He managed to continue working and working with Paramount until the end. Even Coppola, despite their proverbial quarrels, spoke respectfully of him, praising "his charm, his enthusiasm, his style and his good humor."
Hollywood, as Evans sealed it, no longer exists. Why Evans no longer exists…