Foti Pitta Kokkinochorion High School participates in the Erasmus + program, "Experiencing multiculturalism through the lens of photography". Schools from Italy, Poland and Romania also participate in the program.
The 4th mobility took place in Belgium and specifically in Brussels from 3 to 6 June 2022. The mission was attended by eight students of the 1974nd grade of the School, accompanied by three teachers. During the visit, the students presented work related to Famagusta before and after the Turkish invasion of XNUMX. They also had the opportunity, together with the other children of the countries participating in this program, to attend photography seminars, which focused on various techniques, related to motion capture in photography, photo composition and street photography. They then applied these techniques to photography competitions and the creation of digital media, producing material to be posted on the eTwinning platform.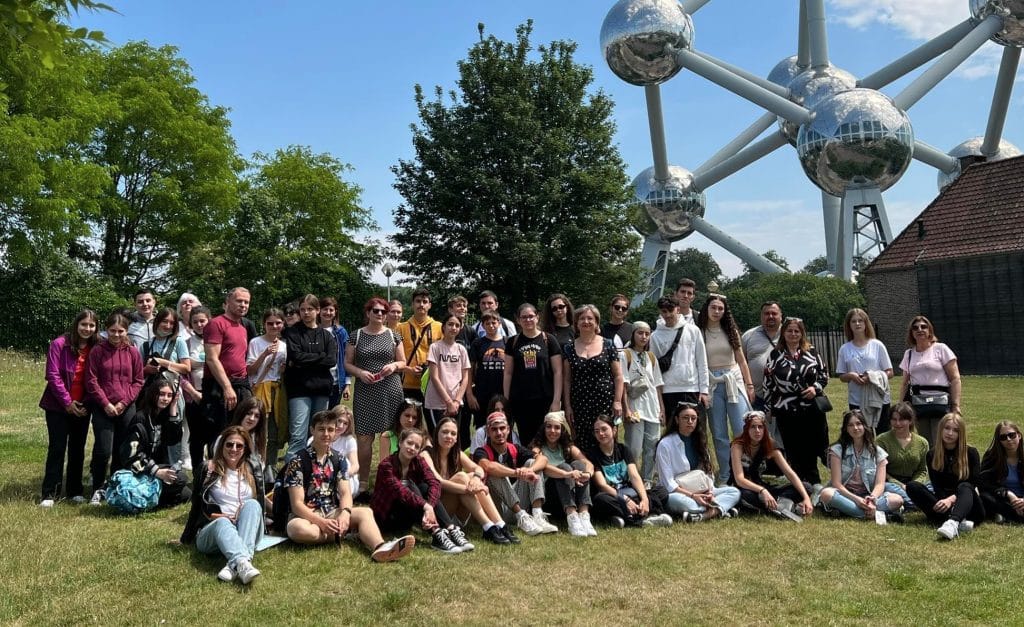 During their stay in Brussels, the students had the opportunity to take a tour of the European Parliament and to enrich their knowledge of the history, operation, buildings and development of the institution. At the same time, they visited the Museum of European History, where they had the opportunity through various exhibits, sources and interactive media to gain extensive knowledge about the geography, history and culture of Europe from antiquity to the present day. Also in the context of mobility they visited the emblematic monument of Brussels, the Atomium, the Design Museum, the theme park Mini Europe and the Museum of Natural Sciences. Finally, they had the opportunity to tour the imposing Grand Place, a UNESCO World Heritage Site, admire the Royal Palace, enjoy panoramic views of the city from the Hill of Arts and be photographed at the famous Manneken Pis statue. During the tour of the city, the students followed a specific path with the aim of discovering and photographing as many animated murals and graffiti as possible. The mobility was completed with a day trip to Bruges, the medieval diamond of Belgium, where students toured the picturesque alleys of the city, the medieval buildings, the tall towers, the historic churches and enjoyed boating on the city's incomparable beauty canals. .
The participation of the students of the school in the program was a life experience, as it promoted the feeling of European unity and cultivated language and communication skills and opportunities for cooperation, coexistence and interaction.
Famagusta.News