The horrific car accident in Voula, which took place on Thursday night, near the area of ​​Pigadakia, with the driver of the luxury vehicle, brand Ferrari, finds a tragic end. 45-year-old George Monogyios was the man who suddenly lost his life. He developed speed, went off the road and ended up on a tree.
The unfortunate man was the brother of the ND MP, Katerina Monogyou, while driving a Ferrari for the first time. He was the father of two children and married to Athena Kontopanou, who was sitting in the passenger seat of the fatal Ferrari and was seriously injured, as a result of which he was taken - later - to the hospital.
In particular, it was March 2003 when he was introduced to the public through "The Wall". At that time he was only 23 years old and was studying Computer Science. For a number of years, George Monogyios maintained a shop with branded clothes in the most central point in Matogiannia, Mykonos.
The timeline of the accident
The accident took place at 175 Konstantinou Karamanli Street, when a luxury Ferrari car crashed into a tree, resulting in a fire.
The brother of the deputy Katerina Monogyiou, George, 45 years old, was driving the car for the first time.
The accident occurred when - according to the same information - the driver tried to avoid a pedestrian and as a result lost control of the car which ended up on a tree and caught fire.
The same information states that inside the Ferrari was the wife of the 45-year-old businessman, Athena Kontopanou, who was thrown out of the window after the violent collision.
It is worth noting that behind the Ferrari was followed by another car a relative of the 45-year-old who saw the collision and tried to free the unfortunate driver. His attempt, however, was in vain as the car was engulfed in flames.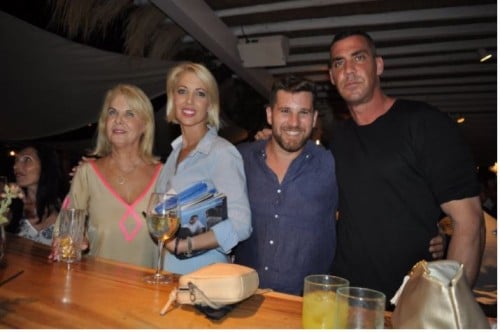 The body of the 45-year-old was transported to the Voula morgue while the injured was transported to the General State Hospital of Nikaia.
Source: First Topic